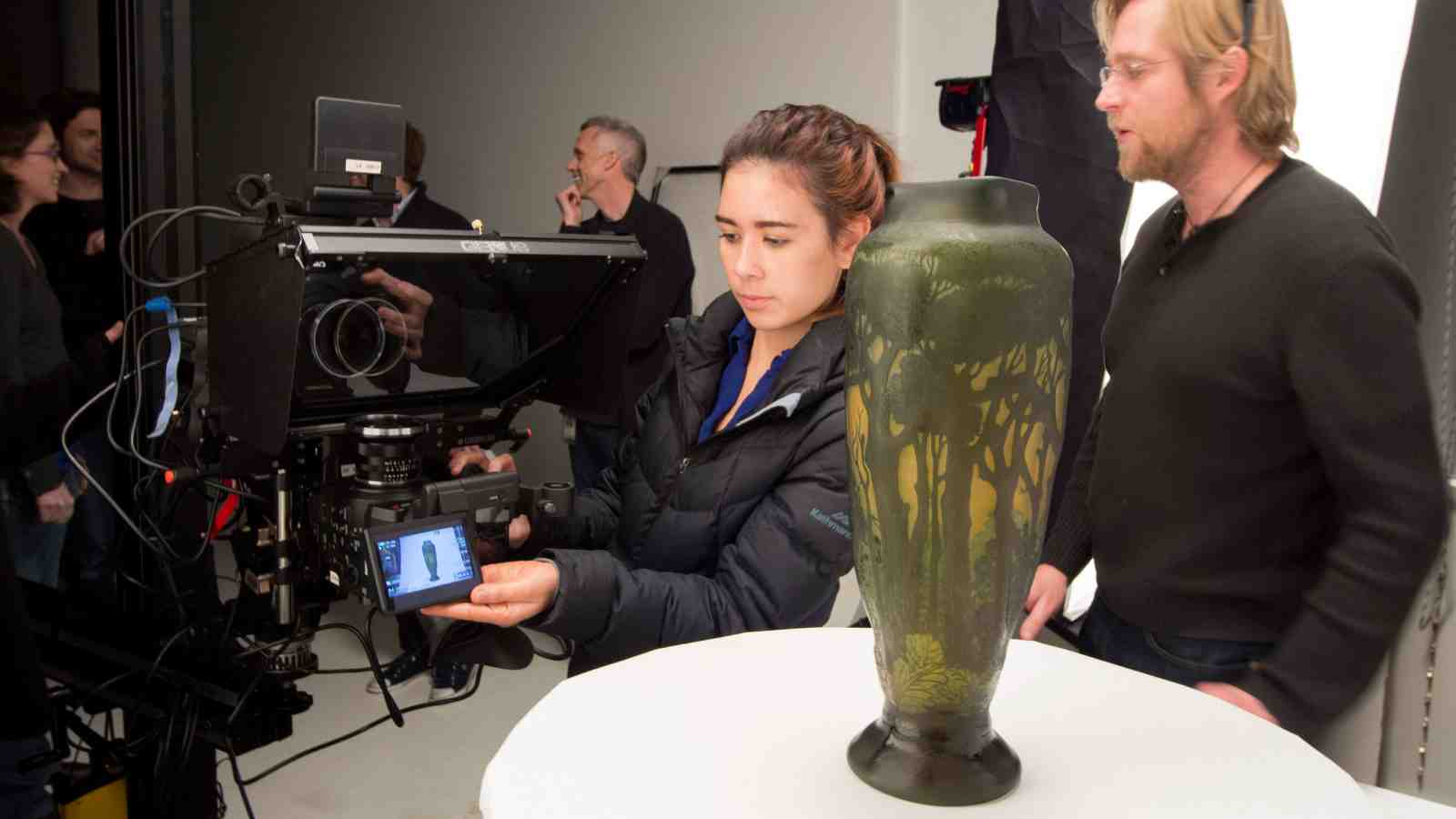 Dr Paul Wolffram looks on as Media Studies major Jennifer Smith focuses the 3D camera rig for filming an Emile Gallé glass vase. Photo: Paul Hillier
Victoria University's Film programme has partnered with Te Papa to take footage of some of the museum's precious objects using the University's new 3D camera.
"Victoria is the first university in New Zealand to work with 3D production, so it's been a real learning curve," says Victoria film lecturer and awardwinning documentary filmmaker Dr Paul Wolffram, who is leading the initiative with fellow staff member, 3D scholar Dr Miriam Ross.
"There is no 'how to' book on the subject, so we are learning by doing."
The team has been assisted by film experts, including three-time Oscar winner for visual effects Alex Funke, from Weta Workshop's miniatures department, and Sean Kelly, lead stereographer on The Hobbit: An Unexpected Journey. More than 40 staff, students and alumni have also come
on board to help out.
Learning from the project will be incorporated into Victoria's film production and theory classes next year.
Philip Edgar, Manager Digital Collections and Access at Te Papa says museums around the world are looking at 3D technologies—including imaging techniques and 3D printing—to provide new and exciting ways to view, interact with and better understand museum objects.
"Te Papa is excited to be part of the 3D filming partnership with Victoria University and begin exploring these technologies," he says.
Filming sessions have been conducted since August, with the objects placed on a bespoke turntable to enable them to be viewed from multiple angles. Te Papa staff have been on hand to handle the objects—normally not on public display—and help figure out the best way to bring out their depth-rich
contours.