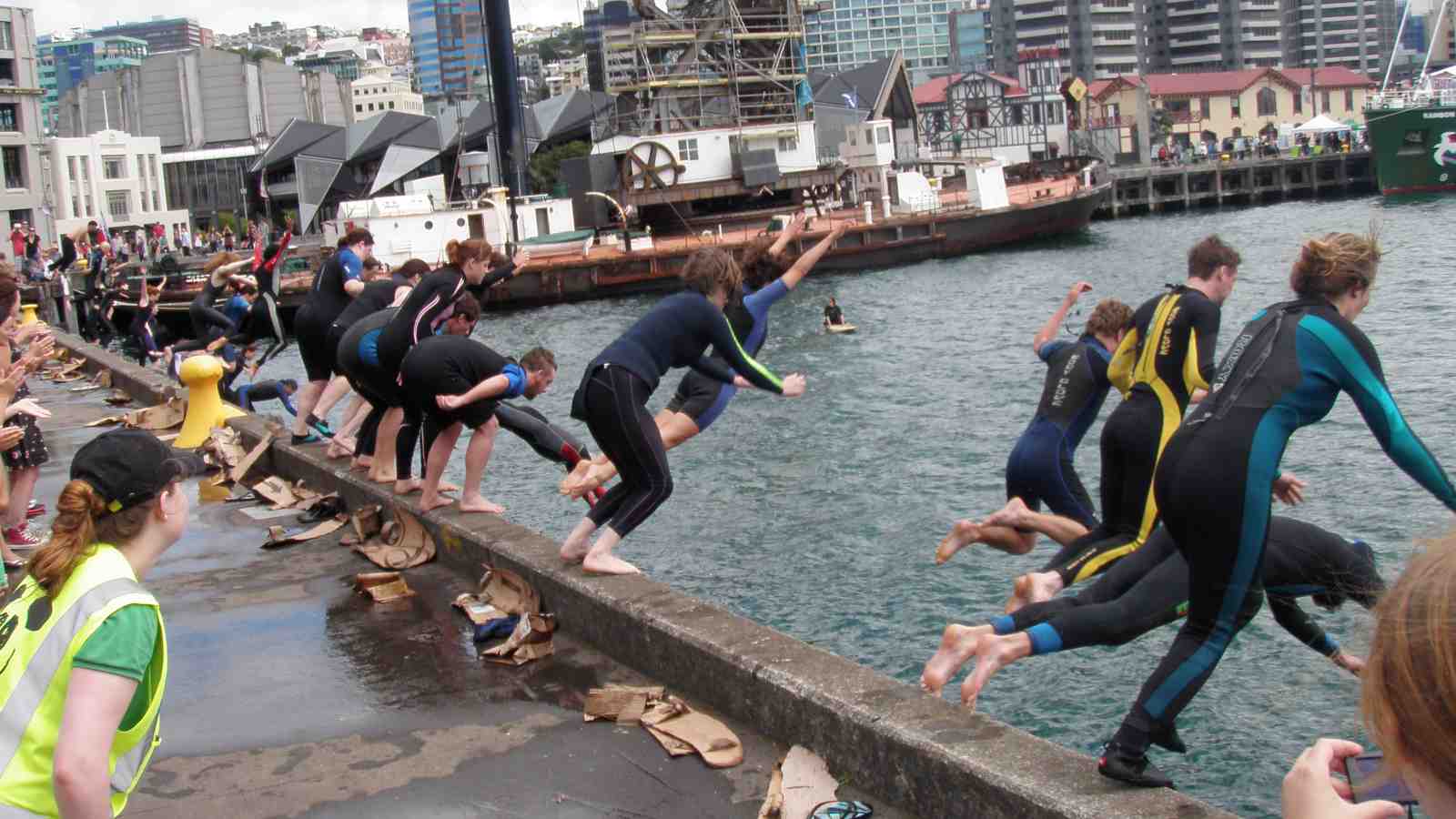 Binge Culture's Whales return to the water. Photo: Malcolm McNamara
Binge Culture, a collective of six Victoria University theatre graduates—Rachel Baker, Joel Baxendale, Simon Haren, Fiona McNamara, Claire O'Loughlin and Ralph Upton—has been working together since 2008. The group won three New Zealand Fringe Festival awards earlier this year, including Best in Fringe, for its interactive street theatre performance The Whales.
In this piece, they dressed as rescue crew and encouraged people off the street to help save the 'whales', who were actors the group had trained.
The community spirit this inspired was rewarded in August with a runner-up prize in the arts and culture section of Wellington Regional Council's Wellington Airport Regional Community Award.
The first production the group created together was for Ralph's Honours research project through the Theatre programme at Victoria.
"Many of the principles we were exploring in that first performance stuck, such as talking to the audience and trying to be versions of ourselves in performance rather than 'acting' too much," says Ralph.
The group maintains close links to Victoria's Theatre programme.
"We have a good working relationship with the staff, many of whom have provided mentoring and advice," says Fiona.
"We have also held several workshops with current theatre students, as well as open rehearsals where students were able to come along and watch us rehearse."
Fiona and Joel are both tutors and directors in the Theatre programme. Ralph is currently a freelance director. Rachel went on to study at Toi Whakaari, New Zealand Drama School, after graduating from Victoria, and has worked in lighting design and on educational arts programmes with children. Claire is doing Honours in the Theatre programme as well as publicity mentoring. Simon is a freelance artist, who works on a variety of community projects.
"Ideally we'd like to make a living from our work as Binge Culture—that's our ultimate goal," says Simon.