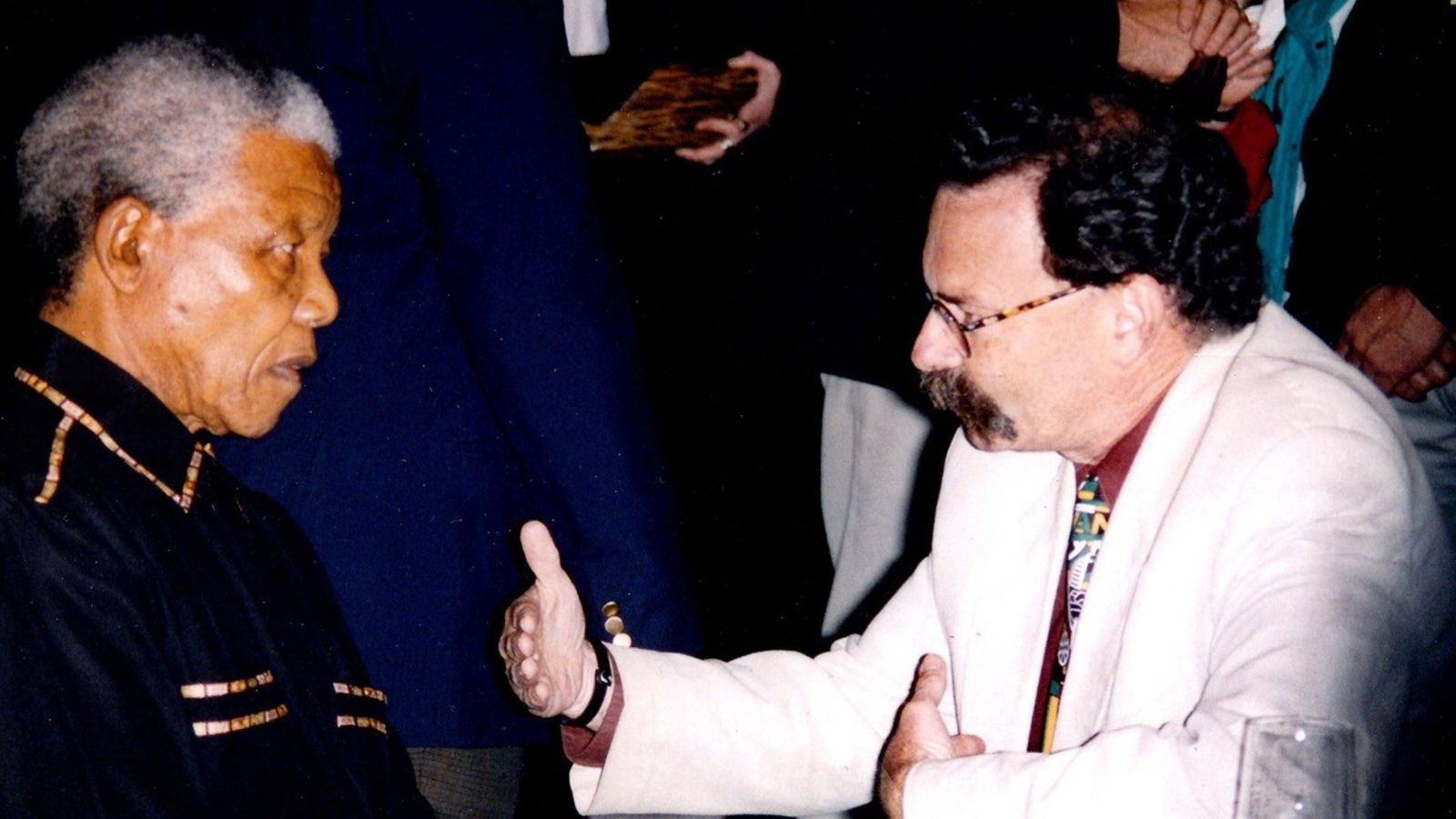 South African anti-apartheid leader and president Nelson Mandela with Trevor Richards in Auckland in 1995. Credit: Richards Family Collection
Organisers of the one-day symposium 'HART at 50: The Power of Protest' say the campaign "shook and changed our society, taking New Zealand into a new and different national and international consciousness".
"In 1956, the visiting Springbok rugby team encountered a nation united in its determination to defeat them; 25 years later, in 1981, the presence of the same team brought New Zealand the closest it had been in the 20th century to civil war," says one of the organisers, Trevor Richards, a founding member of HART and its chair (1969–80) and international secretary (1980–85).
The HART campaign was part of the 1970s and 80s battle for a different New Zealand and showed that protest works, says Mr Richards. "It can change the course a nation takes, the way it thinks about itself."
The campaign saw New Zealanders argue vociferously with each other, says symposium co-organiser Professor Charlotte Macdonald from the University's History programme.
"Whether the All Blacks should play the Springboks, at home or in South Africa, became the most divisive issue in New Zealand politics, workplaces, homes, churches and streets. No other country tore itself apart over games of rugby. Why? And what did it do to New Zealanders' view of themselves and their view of the world?"
These and other questions will be addressed in the symposium, which is being hosted by the University's Stout Research Centre for New Zealand Studies and History programme in association with the National Library of New Zealand Te Puna Mātauranga.
As well as Mr Richards and Professor Macdonald, speakers will include former HART activists John Minto, Sue Bradford and Dave Wickham; former All Black and HART supporter Bob Burgess; author Linda Burgess, who has written of the period; former Human Rights Commissioner, politician and trade unionist Rosslyn Noonan; Treaty of Waitangi and constitutional law expert Moana Jackson; Green MP Golriz Ghahraman; Tayyaba Khan, founder of the Khadijah Leadership Network; writer and trade unionist Morgan Godfery; and journalist Simon Wilson.
Among other things, they will be discussing the role, limits and shape of protest and dissent in New Zealand today, and the current human rights challenges facing the country.
HART at 50: The Power of Protest
Auditorium
National Library of New Zealand Te Puna Mātauranga.
70 Molesworth Street
Wellington
9.30am–1.30pm Saturday 12 October
Admission: $10 in cash at the door
Register at: https://bit.ly/2ZkynoN