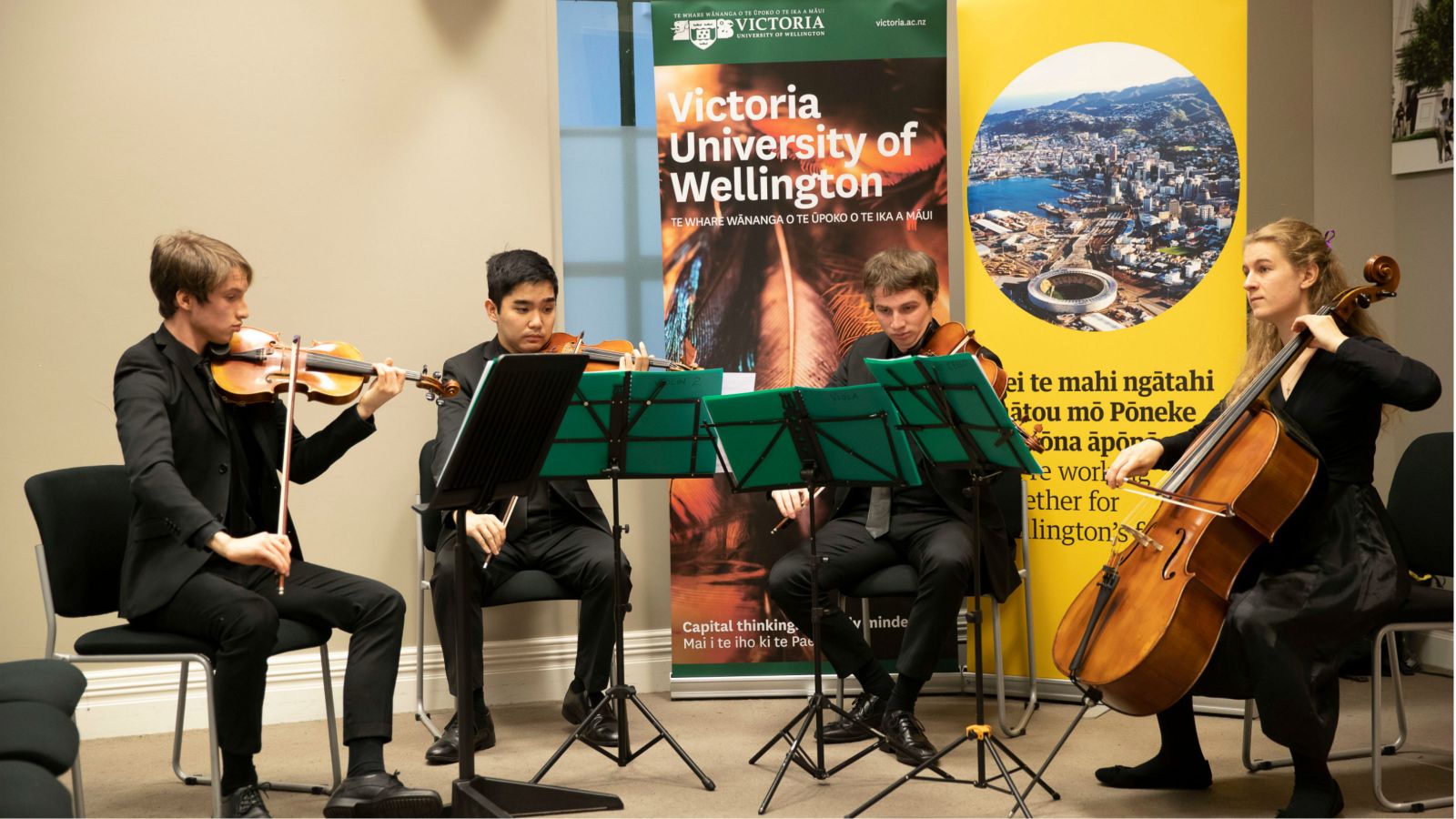 Students from the NZSM play during the signing of the agreement.
The University has signed an agreement with Wellington City Council that will see 101 Wakefield St, formerly the Municipal Office Building, become part of a national music centre, which will be home to NZSM and the NZSO. The complex will also include a strengthened and refurbished Wellington Town Hall and the Michael Fowler Centre.
Wellington City Council will refurbish 101 Wakefield Street and lease it to the national music centre for 25 years.
University Vice-Chancellor Professor Grant Guilford says the agreement is a big step forward for the project.
"With this partnership, here at this fantastic location in the heart of Wellington, we intend to do something extraordinary for music and music education in this country."
He says the national music centre will allow NZSM's talented young musicians to study alongside the professional mastery of the NZSO.
"But more than that, it will also be a space where diverse artists and scholars can work with and learn from each other. With jazz and classical voice artists and instrumentalists, composers, sonic artists, musicologists, technology developers, and music therapists all making their home in the national music centre, it will become a national space for new forms of musical innovation and collaboration," he says.
Mayor Justin Lester says the deal secures the future of 101 Wakefield Street—a crucial part of Te Ngākau Civic Square.
"The national music centre will be home to some of New Zealand's best musicians and will inject their energy and talent into the central city. With the NZSO and NZSM in the area, the precinct is intended to expand enormously the options for public access to music and the arts, with lunchtime concerts, public lectures, workshops, seminars and art displays," says Mayor Lester.
The University and the NZSO have launched a campaign to raise at least $30 million towards the fit-out of both the Wellington Town Hall and 101 Wakefield Street. Professor Guilford says he is delighted with the encouraging response to the fundraising campaign to date with 57 percent of the target already raised.
"We're very grateful to our leadership gift supporters, who have been so generous, and we look forward to working with others who share our vision."
NZSO Chief Executive Christopher Blake says the Orchestra is delighted that the Council and University of Wellington have signed the agreement.