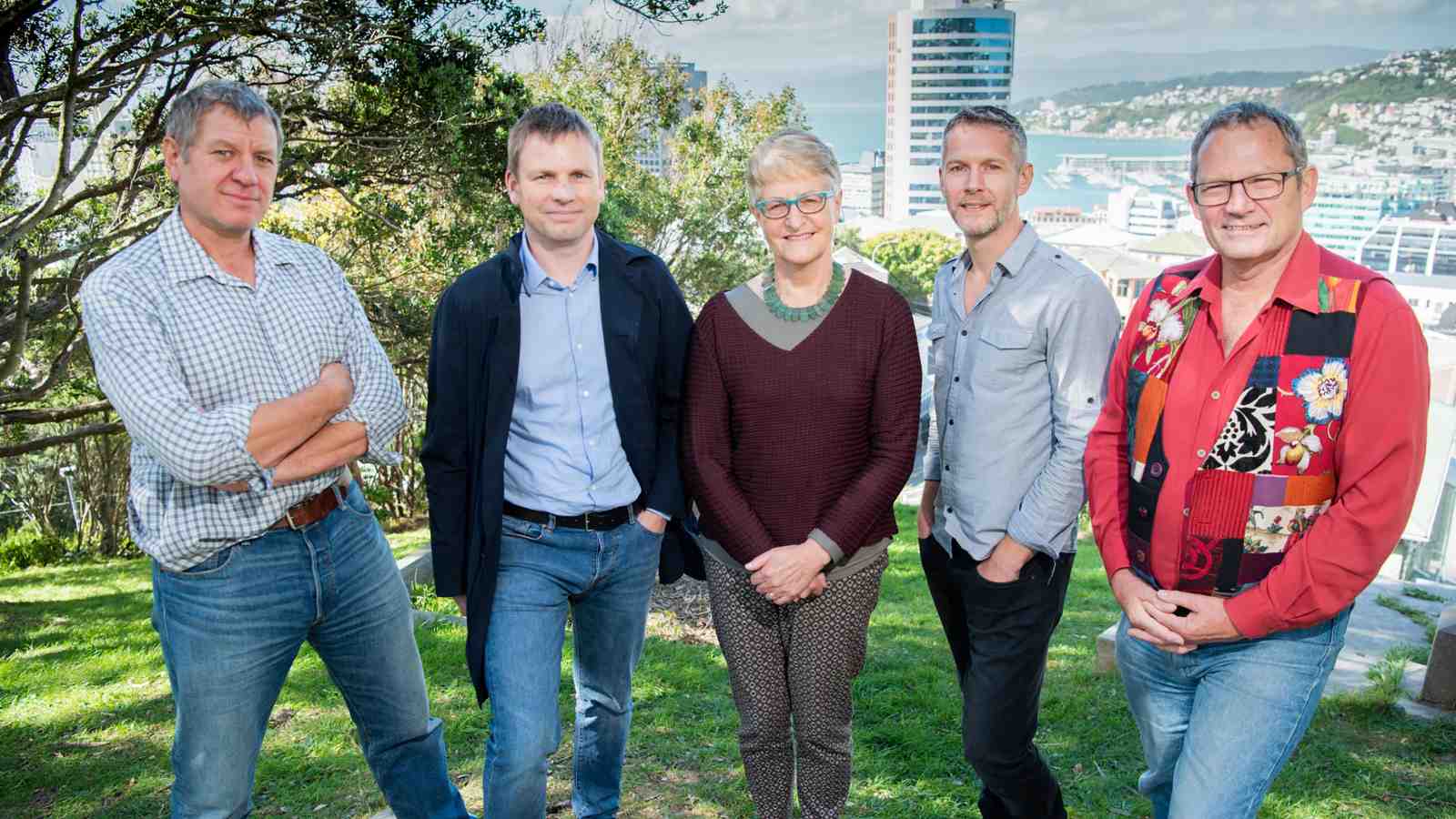 L-R Professor Dave Frame, Professor Andrew Mackintosh, Dr Judy Lawrence, Associate Professor Nick Golledge, Professor James Renwick
Five Victoria University academics have been confirmed as lead authors for the next report from the Intergovernmental Panel on Climate Change (IPCC)—one of the world's leading independent reports on our changing climate.
The academics are Professors Dave Frame, Andrew Mackintosh, and James Renwick, Associate Professor Nick Golledge, and Dr Judy Lawrence. They make up one of the larger groups of authors from any organisation to be involved in preparing the report.
"It's rare to have five lead authors from one institution selected for the same report cycle," says Professor Mackintosh, Director of Victoria University's Antarctic Research Centre. "Victoria University is very strong in climate science across a wide range of areas relevant to society—including climate physics, global and regional climate change, ice sheets and sea level rise, and adaptation—which gives us a significant advantage when working on these reports."
"It's hard to overstate how important these reports are," says Professor Renwick, Deputy Head of Victoria University's School of Geography, Environment and Earth Sciences. "The findings influence the decisions made under the United Nations Framework Convention on Climate Change (UNFCCC), which mandates the global agreements on climate change action, such as the recent Paris Agreement, and steers climate policies across the globe."
The IPCC produces a range of reports that assess scientific, technological and socio-economic information from different areas over the last five years. The reports look at the science of climate change, the impacts of climate change, and mitigation of climate change across the globe.
"The report chapter I am working on focusses on impacts, adaptation, and vulnerability in New Zealand and Australia," says Dr Lawrence, a Senior Research Fellow in Victoria University's Climate Change Research Institute. "This report gives New Zealand policymakers a unique assessment of global climate change issues and those specifically affecting the New Zealand region. It also allows Victoria University to position its expertise on a global stage."
Dr Lawrence is leading the writing team for her chapter, as is Professor Renwick. Both Associate Professor Golledge and Professor Mackintosh are assessing changes in polar ice sheets and glaciers, with Associate Professor Golledge working on the chapter on sea level rise and Professor Mackintosh continuing work on a Special Report on changes in the oceans and cryosphere. Professor Frame is focussing on the chapter on global energy balance.
Dr David Wratt, Adjunct Professor in the Climate Change Research Institute, will also be a reviewer for one chapter in the report.
"The chapter on energy balance focuses on the global climate response, including questions like how much a certain amount of CO2 will cause the planet to warm," says Professor Frame, Director of the Climate Change Research Institute. "It looks at the fundamental, physics-based science behind climate change, and I'm really looking forward to those conversations."
The contribution to be made by Victoria University staff is significant says Associate Professor Golledge.
"Our involvement in this report really demonstrates the strength of our international research and recognises the significant scientific contributions we are making," he says.
Professor Renwick agrees. "Through these reports, we bring our Victoria University expertise to informing policymakers and the global community about the latest information on climate change. It really reflects our role as a global-civic university."