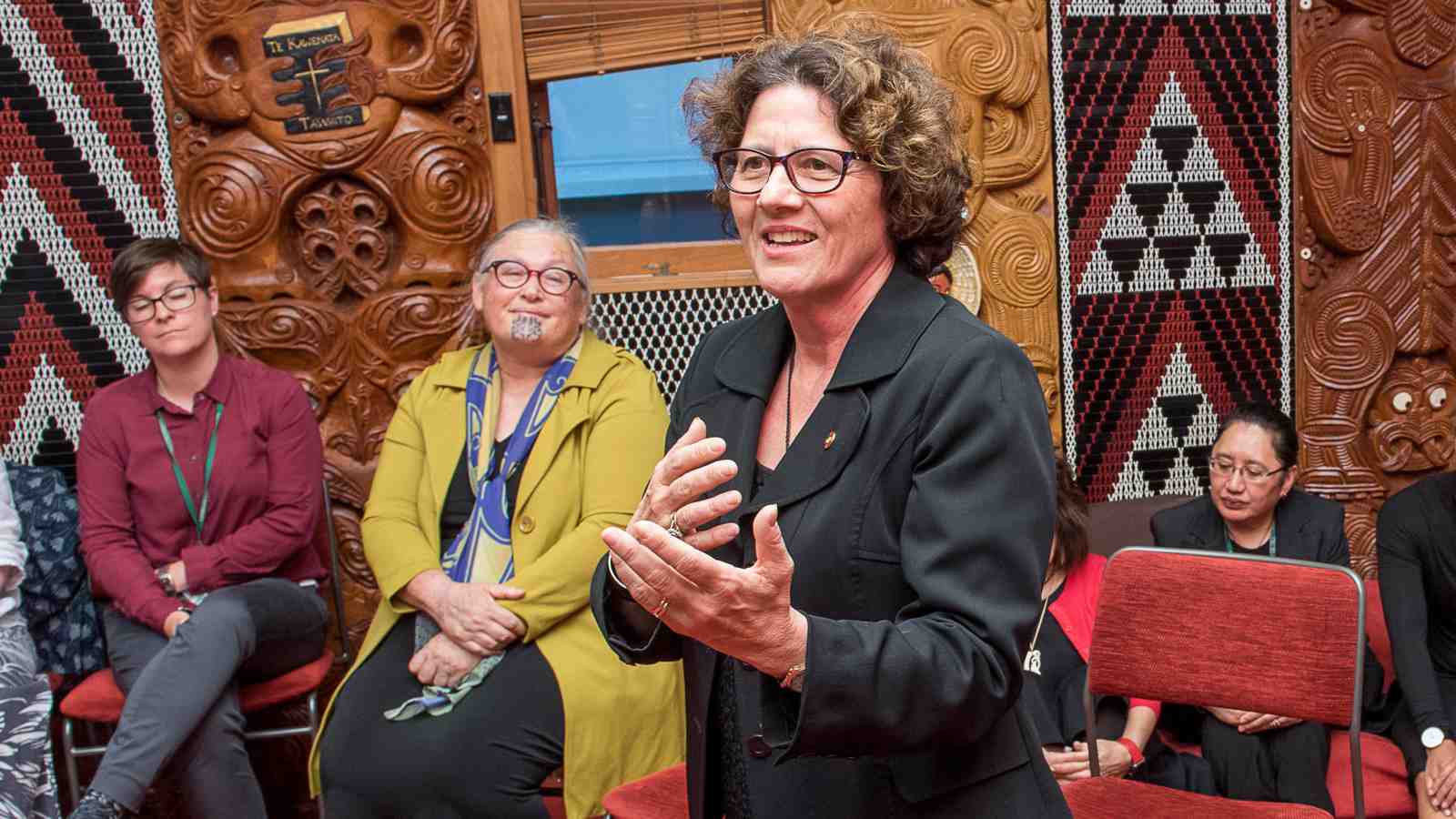 These days she gets to tackle some of those questions, as director of Victoria's Centre for Women's Health Research Te Tātai Hauora o Hine. Projects include looking at pre-term births, a multi-pronged exploration of the factors that have an impact on the health of Māori women, their babies and whānau, and a trial aimed at improved cervical cancer screening rates for Māori women.
"It's about making a difference. I sometimes ask why the heck did I get into this and it's because I was a GP—I'm still a GP—and I just kept questioning 'why is women's health like this?'"
Professor Lawton, Ngāti Porou, leads a team that includes a number of Māori researchers and has a strong kaupapa (agenda) of improving the health of Māori.
"There are obviously serious disparities and if we can get those pathways working for Māori, it will help everyone."
Strong connections with Māori communities and iwi organisations are key to the centre's work.
"We are interested in supporting the needs of whānau, working with the community, so that they have good ownership of a project which is a really good model for us. Others might come in and say 'you need this' whereas we come in and say 'what are your needs? Do you need transport? Do you need some help with stopping smoking.?'"
Professor Lawton has worked on women's health issues for many years, previously with the University of Otago. The establishment of the centre at Victoria came as the University was establishing a new Faculty of Health and a new Bachelor of Health programme which has attracted strong enrolments from Māori and Pasfika students.
"It was an opportunity for building something over the next few years with a new faculty, which has got a good vision," Professor Lawton says. "We are looking forward to building collaborations with others in the Faculty, such as the Health Research Services Centre."
She says the centre's work is translational research—"which means your research question translates directly into health outcomes."
She cites a qualitative study which followed a group of young Māori women for two years through their pregnancy and beyond to look at barriers to uptake of contraceptives. Although all wanted to use contraceptives, very few had done so at six weeks after birth. The study explored the reasons for that and was able to provide policy advice on how to turn it around.
Another study is using a community research partnership model to study the uptake of self-sampling among Māori women for the human papillomavirus, using new technology that will eventually replace present cervical cytology screening. Professor Lawton says Māori women are more than twice as likely to be diagnosed with cervical cancer and three times more likely to die of cervical cancer than Pākehā women.
"To improve health outcomes for Māori it is essential to have input, partnership and collaboration. Prevention and early detection remain the key for addressing Māori health and well-being."
One of the biggest studies the centre has been involved in is on severe acute morbidity, crunching the data on women who become very sick when they are pregnant or just after giving birth. Part of the HRC-funded project involved bringing together around 220 clinicians, in groups, to review the cases.
"We wanted to know in that clinical journey, was there anything we could do that would have improved that outcome and she wouldn't have had to get so sick."
She says one of the outcomes was government funding for the Health Quality and Safety Commission to continue the work. "So that work has become business as usual. That's the ultimate for a researcher—to make your research into policy."