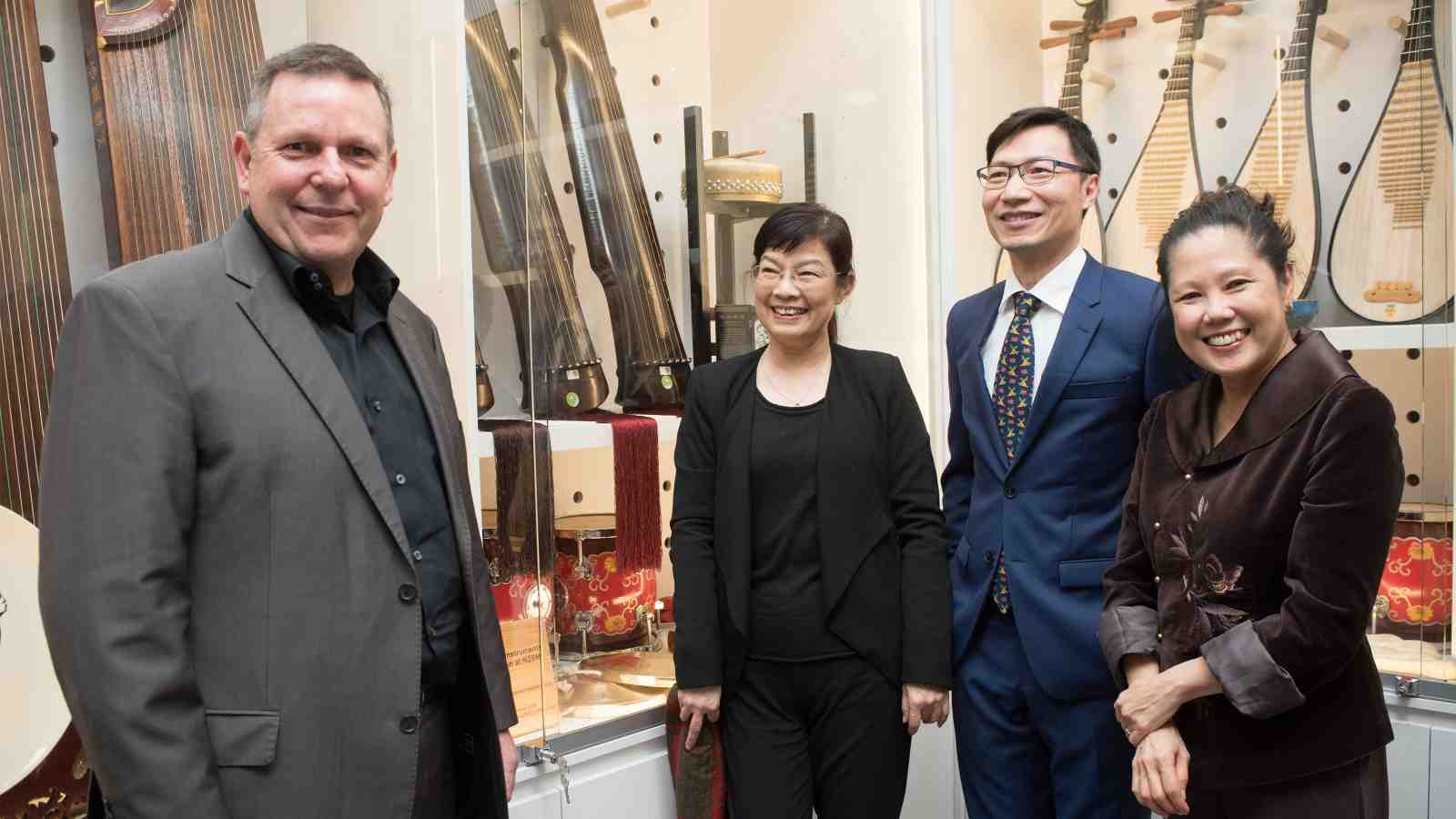 From left: NZSM Director Euan Murdoch, Confucius Institute Deputy Director Xiaoqing Yang, Confucius Institute Arts Adviser Dr Luo Hui, Confucius Institute Director Wen Powles.
Previously known as the gamelan room housing an Indonesian Javanese gamelan, which has been on permanent loan from the Indonesian embassy for the past 40 years, Te Kōkī New Zealand School of Music (NZSM) director Euan Murdoch says the new name reflects the wider Asia-Pacific focus of the instruments.
The latest addition is a collection of Chinese plucked string and percussion instruments purchased by Victoria University's Confucius Institute with funding from Confucius Institute Headquarters (Hanban), and sent with the assistance of Xiamen University, Victoria University's partner university in Wellington's sister city Xiamen.
NZSM ethnomusicology lecturer Dr Brian Diettrich says the room immerses students in the culture, language, and customs of music of the Asia-Pacific region.
"These instruments give students the opportunity to look at music performance, sounds, and composition in different ways. For example in a gamelan ensemble performers swap instruments and play without sheet music. We want this model between music and culture to work with the new Chinese instruments, too."
Students studying throughout the University can use the instruments for research within classes, for demonstrations and workshops, and for performance learning.
Mr Murdoch says the instruments add another layer to the skills and expertise that NZSM students develop at Victoria.
"Victoria has a proud history of facilitating cross cultural collaboration through music, especially within the Asia-Pacific region. The relationship NZSM staff and students have with community groups such as the Gamelan Wellington group means students can continue to pursue their passion for performing on Asia-Pacific instruments outside of the classroom."
A small plaque acknowledging the work of former composer and Chinese music expert Associate Professor Jack Body has been commissioned to display alongside the new instruments. A recent launch of the Asia-Pacific Music Studio celebrated the years of collecting, teaching and passion that Associate Professor Body and ethnomusicology colleague Dr Allan Thomas put into the gamelan room, as well as the 40th anniversary of the first Javanese gamelan being hosted by NZSM.
The studio also has instruments from Māori culture, the Pacific Islands, China, the Philippines, Indonesia, India, Thailand, and other areas.