Language Buddy programme update
For the first time our Language Buddy programme has been delivered online due to the Covid-19 restrictions. We share a few details from this trimester's programme, as well as one pair's story.
Who's involved?
This trimester 96 people received a Language Buddy (that's 48 pairs) out of a total of 221 applicants (this compared favourably with 190 applicants in Trimester 1 2019). It's usually the case that there are languages which very few Kiwis learn such as Danish, Vietnamese, Malay or Kirundi and so these native speakers are more difficult to pair up. It's usually a matter of supply and demand, but I am pleased a large proportion of applicants did receive a Language Buddy. The most common pairings this time are Chinese-English, followed by Japanese-English and then French-English.
For the most part, the student practising a language other than English is a School of Languages of Cultures student, while their Language Buddy is an English Proficiency Programme (EPP) student, or an international student that has already started their undergraduate major. There are plenty of exceptions though.
A Language Buddy's story
One Language Buddy recently shared a little about her experience with other students in the student newsletter Whītiki.
"I'm Shijia Chen, a student from the beautiful southeast of China. I used to be a reality TV show director, but after four years of tiring work, I wanted to take a break to undertake further education, so I came to New Zealand.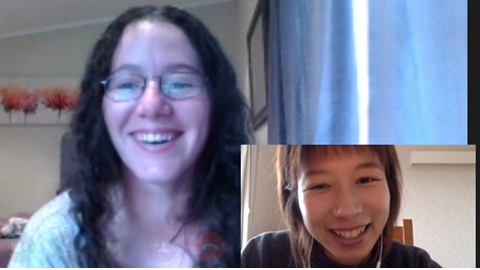 English isn't my strength, and although I passed my International English Language Testing Scheme (IELTS) test, I still struggled when I first got here. The Language Buddy programme at Victoria University of Wellington has helped me connect with friendly people who are into different cultures, and it means that I can practice speaking English while helping someone else, which is really nice.
This trimester, my buddy is Chrissy. She's learning Mandarin, which is my mother language. Despite the fact that we only recently met, we've been having video calls every two days. She's helped me improve my English so much already, and I've helped her to pronounce Mandarin better. It's been really good for me to have chats with my buddy, especially during lockdown.
I can't thank the organisers of the Language Buddy programme enough. It's such a great programme for people who want to experience different cultures and learn a second language. The organiser Ben is really great, and I'm so happy to be connected with my buddy."
Some useful resources
It's up to Language Buddies to decide what they want to talk about and/or what aspect of language learning they most want help with, but we do have some suggestions of things to do during online meetings. These have just been updated to reflect our conditions under lockdown. We also have 100 graded questions for Languages Buddies available in a number of languages. Language Buddies could try to answer as many as they can, or just use a couple of them as a starting point for a conversation.
Those that didn't receive a Language Buddy
I always find it frustrating not to be able to pair more students. I usually send out an email suggesting other avenues for making contact with native speakers/those interested in their target language. Again, this time I adapted this to reflect our need to do everything online at present. There are fortunately lots of options. If anybody would like a copy of this, please email me Benjamin Swale.