Teaching accreditation and fellowships
A professional development programme that focuses on enhancing teaching and learning practice and enables staff to gain recognition as Fellows of Advance HE.
Centre for Academic Development (CAD) is initiating an accreditation partnership with Advance HE in the UK as a means of recognising professional standards for teaching and learning in the University. This proposed partnership will accredit the University to offer staff a development programme focused on enhancing teaching and learning at the university and will also enable individual teaching staff to work towards having their teaching recognised as Fellows of Advance HE.
Fellowship demonstrates a personal and institutional commitment to professionalism in learning and teaching in higher education. Across four categories, from Associate to Principal, Fellowship provides individuals with recognition of their practice, impact, and leadership of teaching and learning.
We intend to make an application for accreditation in 2021 and have initiated conversations with Advance HE to start this process. All going well, we will receive approval to become an accrediting partner from 2022, at which point we will be able to begin offering our own PD programme and path to Fellowship for all teaching staff at the University.
In order to ensure this PD programme suits the University's needs (and meets the Advance HE accreditation requirements), we will offer a trial programme in Trimester 2 2021 for an invited list of Academic staff. All participants will work towards developing portfolios for Fellowship submission at the end of February 2022 (or within a few months of that date).
Participation in this trial PD programme will include the following:
Enrolment in a free, self-paced, 12-module MOOC (Massive Open Online Course) called 'Contemporary Approaches to University Teaching'.
Voluntary attendance at two portfolio writing and peer review days at the end of the programme.
Attendance at a series of cohort meetings throughout Trimester 2, focused on Fellowship and the five Areas of Activity in Advance HE's Professional Standards Framework (PSF).
Participation in a 4-person, multi-disciplinary, reflective peer observation process, called Teaching and Learning Circles (TLC).
A peer review of teaching partnership (PRP) with a trusted critical friend.
Creation of a personal fellowship portfolio.
More information on each of these elements of the programme is provided below.
Contemporary Approaches to University Teaching MOOC
The Contemporary Approaches to University Teaching MOOC is hosted by the Council of Australasian Leaders of Learning and Teaching (CAULLT) and co-led by Associate Professors Marina Harvey and Agnes Bosanquet at Macquarie University. It is free to enrol in and aligns with the Professional Standards Framework (PSF). The MOOC has been taken by more than 7,000 participants from 106 countries since 2018 and is well-regarded internationally.
Designed for those in their first few years of university teaching, or going through a review of teaching practice, it introduces higher education learning and teaching concepts and strategies through expert developed modules and resources. Study is self-paced in two hour modules that can be completed over a semester.
Topics include:
teaching your first class of a course
planning for learning
feedback for learning
scholarly teaching and the scholarship of teaching
designing, implementing and supporting online learning
curriculum design
assessment
collaborative learning
teaching today's diverse learners
quality assurance and our responsibilities
learning and teaching theories.
Participants will enrol in the MOOC and complete the 12 modules (and any supplementary modules in which they are interested) at their own pace. Those with extensive teaching experience may choose whether to participate in the MOOC at all, and/or which modules may be relevant for them.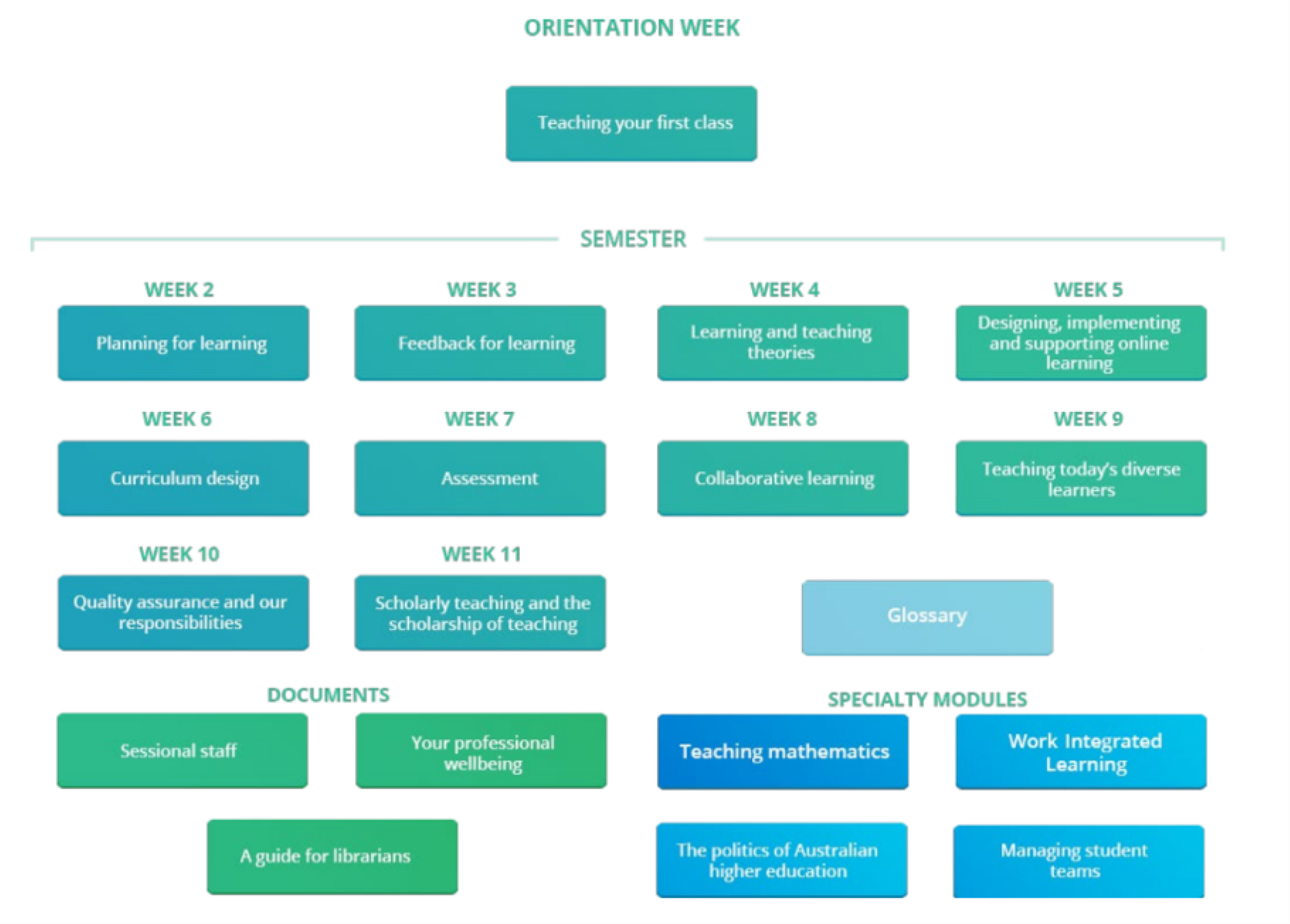 Fellowship PD programme
Accompanying the MOOC will be seven group meetings running from Week 4 until the end of Trimester 2, and two portfolio writing days (see proposed timetable below, exact dates are yet to be decided).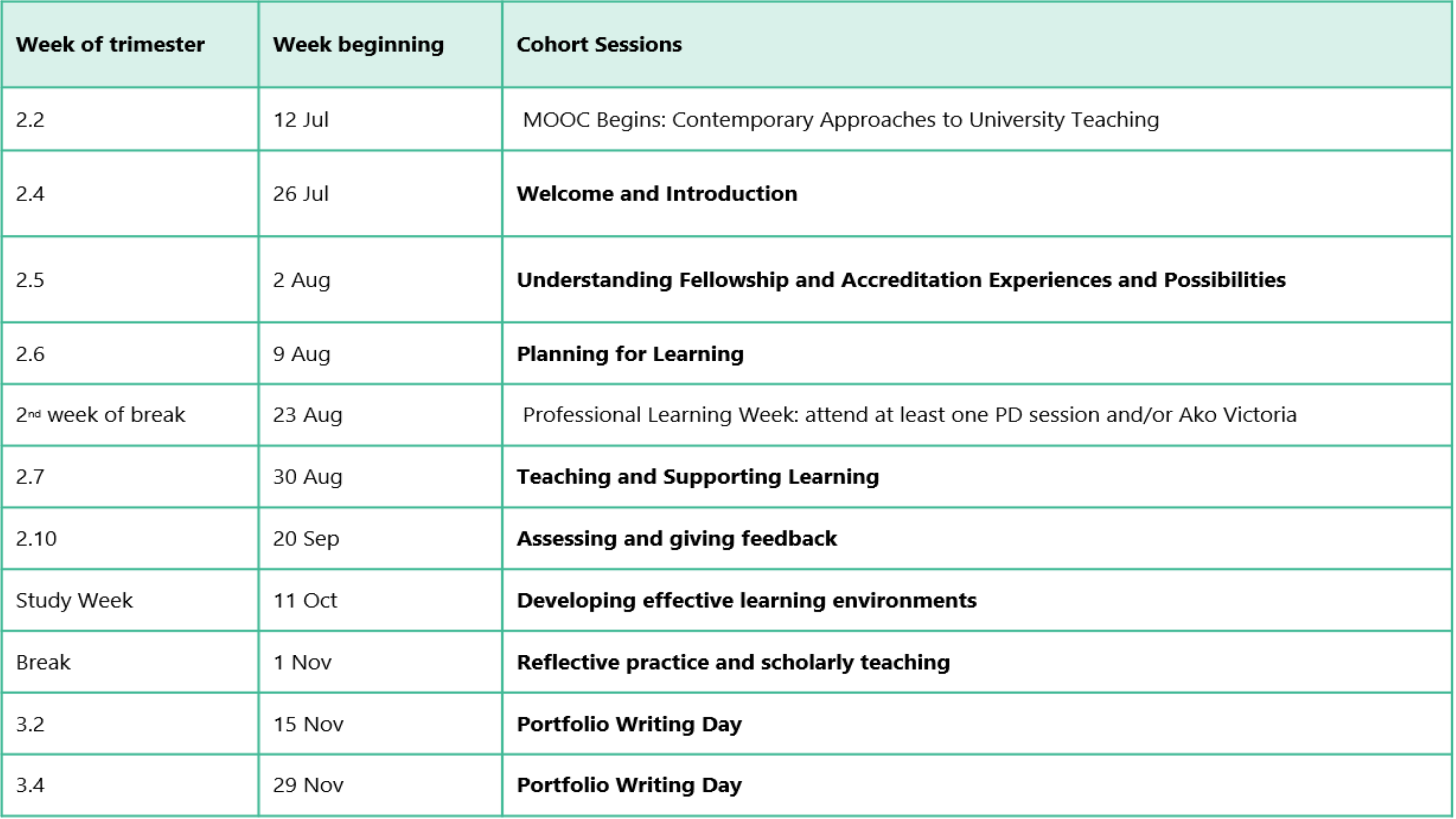 Each cohort meeting will include discussion of the various MOOC modules as well as focusing on one of the five different Areas of Activity in the Professional Standards Framework (PSF) that form the basis of an application for Fellowship to Advance HE:
PSF Area of Activity
A1 Design and plan learning activities and/or programmes of study
A2 Teach and/or support learning
A3 Assess and give feedback to learners
A4 Develop effective learning environments and approaches to student support and guidance
A5 Engage in continuing professional development in subjects/disciplines and their pedagogy, incorporating research, scholarship and the evaluation of professional practice.
More information
If you want to know more about Advance HE Fellowship or the PD programme, email: cad-contact@vuw.ac.nz.