Melanie Sampson
Variety key to job satisfaction at EQC
A general litigation background and some specialisation in construction law has given Melanie Sampson the right mix of skills for the challenges of being an in-house lawyer at the Earthquake Commission (EQC).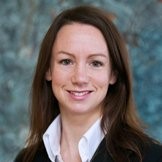 A wide variety of legal work gives in-house lawyer Melanie Sampson job satisfaction at the Earthquake Commission (EQC), where she has been a Senior Legal Advisor for a year.
Sampson graduated from Victoria University of Wellington in 2008 with an LLB and BA (PSYC).
"One of the best things about my role is the team that I work with," Sampson says. She is one of nine in-house lawyers at EQC, led by Chief Legal Advisor, Jeremy Ford.
"The role also has a huge variety of legal work. In one day I might deal with aspects of public, property, criminal and commercial law. And while that variety is great, it can also be challenging. Sometimes a lot of research, in-depth analysis and consideration is required before I can provide advice to the business, even for seemingly simple questions.
"For example, simply confirming who should receive a settlement payment can involve checking the relevant provisions of the EQC Act, finding out whether there has been an assignment of any claim, checking the certificate of title to confirm who the registered proprietor was at the relevant time, who currently owns the property and whether there are any registered interests, together with reviewing communications from the customer and, in some cases, their lawyer."
A general litigation background and some specialisation in construction law gave Sampson the right mix of skills for the challenges of EQC, an independent Crown entity governed by the Earthquake Commission Act 1993.
"As soon as I graduated from Victoria, I started working as a Law Clerk at a law firm in Wellington. I had worked there full time for a year before attending university and part-time while I was studying. Once I was admitted to the bar, I worked as a solicitor in the litigation team for three years before heading over to Melbourne," Sampson says.
"I had visited Melbourne in 2010 to watch the Australian Open. I really liked the city, the climate and it seemed to have a lot going on in the way of sporting and social events. My husband and I decided to pack up and move over there for a year or so. One year quickly turned into four, and we returned to Wellington in 2015."
In Melbourne, Sampson worked as an Associate in a mid-tier commercial law firm in the construction and projects team for about three years.
Reflecting on her time in Melbourne, Sampson says, "looking back, I am extremely grateful for the friendships I formed and the experience I gained, particularly working on large construction and infrastructure projects that don't tend to be as frequent in New Zealand."
She returned home to Wellington last year, after having a child (she has a one-and-a-half-year-old son).
"I was fortunate enough to find work in Wellington straight away in-house at EQC. After a re-organisation of roles at home, I went back to work full-time and my husband has stayed home as primary caregiver for our son.
"It is important to have that kind of support given that, the hours are not nine to five. This job involves travel to Christchurch and so being able to have one of us at home full-time is ideal," Sampson says.
"My background in construction law, together with my parents owning a joinery business, meant that I had a basic understanding of building terminology which has been very useful for EQC's work in responding to claims for natural disaster damage to residential buildings."
EQC is New Zealand's first loss insurer for natural disaster damage to residential homes, land and contents, up to capped amounts set out in the EQC Act. Private insurance covers damage above the capped amounts and the extent of that cover depends on the individual policy. EQC's insurance cover automatically applies when a private insurance policy for your home (and contents), that includes fire insurance, is in place.