Forty years the charm
Professor John Prebble QC is now Emeritus Professor, after 40 years dedicated to the staff and students of Te Herenga Waka—Victoria University of Wellington.
His mentorship of others, as well as his connections within Wellington city, his dedication to equal opportunities, his expertise in tax law, and his extensive publishing programme have played a part in elevating him to Emeritus as he retires.
An effective and generous mentor
Emeritus Professor Prebble is known as an effective and generous mentor to many at the University. He began as a mentor for women academics. He says, "A collective of female academics was seeking senior women as mentors. Someone left an application form lying about. I completed and returned it. Being broad-minded, the collective accepted me.
"Some of my early clients were junior colleagues, all in departments other than law, who were victims of sexist behaviour on the part of staff or students. Some was advertent, though most was inadvertent. All was unacceptable and some egregious, though, thankfully, none plumbed the depths revealed by the Me Too movement. I tried to help, though the culture in several disciplines was challenging. Some years later the University picked up the mentorship idea and extended it to all academics.
"His niece, Dr Zoë Prebble, who is a former student and current colleague says, "John has an expert eye in spotting talent in students, and tends to scoop up bright students early in their law degrees as his research assistants. He frequently co-publishes with these students, and acts as a generous mentor."
This mentorship also applies within the family. He has published chapters and papers alongside his daughter Rebecca Prebble (now Chief Policy Advisor, Ministry for the Environment) and Zoë, about tax avoidance. Zoë Prebble and John Prebble's paper on morality and tax avoidance consistently scores the most downloads of a paper by New Zealand legal academics.
These papers merge the disciplines of philosophy and law, something which he continues to develop in his research. His current work applies Hans Kelsen's Pure Theory of Law to the intricacies of taxation.
Fairness and opportunity provided for all students
Professor Prebble has been President of both the Rotary Club of Wellington and the Wellington Club. These connections allowed him to establish a partnership between the Rotary Club and the University's Workplace Communications for Skilled Migrants programme, founded and coordinated by his wife, Nicky Riddiford, a senior teacher in the English Language Institute.
The Programme continues today. It helps skilled migrants to thrive in the professional and commercial job market. "While the University had good funding for the programme, Nicky realised that participants needed opportunities to speak to professional New Zealanders and to get practice in employment interviews," says Professor Prebble.
"There was a natural fit with the Rotary Club, with members visiting every week. Members of the Club also address students about the New Zealand constitution and workplace laws and culture. Sir Anand Satyanand, a former Governor-General, and Lady Susan Satyanand conduct a module on New Zealand citizenship. The club also initiated the University's long connection with The Johnson Group, which arranges internships for the students, a core element of the programme."
The relationship he developed between the University and Rotary Club, along with his mentorship, played a part in Professor Prebble's winning of the Equity and Diversity Award at the 2013 Staff Excellence Awards. His initiation of a quota to ensure larger numbers of Māori law students many years ago also played a part in the award of this prize.
"Fairness and opportunity also plays a large part in his teaching career," says Zoë.
His approach to multi-choice exams is particularly equitably minded. He has put a lot of thought into the pedagogy of these exams.
"John has considered how to design fair questions: there should never be marks removed for wrong answers, as this amounts to assessing someone's risk profile rather than their knowledge," says Zoë.
"Focus on risk profile may seem abstruse, but it has important fairness implications, which John is very aware of—those who will take risks are more likely to be male."
A world-renowned expert in taxation law
Professor Prebble is one of only three professors who have been appointed Queen's Counsel on the basis of tax law scholarship—ever. The others are from England and Canada.
People occasionally question whether tax law should have any place in universities: the stigma that, for some, attaches to the practice of tax law can carry over to academia. But Professor Prebble agrees with Justice Oliver Wendell Holmes that "taxes are what we pay for a civilized society".
He fell into tax law by chance, moving back to New Zealand after completing first a Bachelor of Civil Law (BCL) at Oxford University, then a Doctorate of the Science of Law (JSD) at Cornell University in the USA and after practising, finding a teaching position in tax law at the University of Auckland.
"I had studied law for nearly nine years, but almost no tax law. That gap was challenging when composing lectures, but it gave me an unusual outsider's perspective on tax, which I found interesting but unusual. Compared with other law, tax is extraordinarily disjointed. I couldn't initially see why that should be so, but the evidence is abundant. For example, governments often need several tax reform statutes in any one year, something that does not occur in other law."
"Analytical legal philosophy is well established as a discipline, though no scholar of legal philosophy had directed its light onto tax law, and no tax scholar seemed to employ the tools of analytical philosophy. It occurred to me that analysing tax law from the perspective of the great philosophers of law might shed some light. It did.
"For instance, taxation law is based on fictions, which are common enough elsewhere in law. But many fictions of tax law are not just fictions. They are what philosophers know as 'ineliminable fictions'," he says. "For instance, all of tax law assumes a factual difference between capital and revenue. From the point of view of economists, who deal with facts rather than norms, that distinction doesn't exist. Differences are just questions of time."
In offering courses at Auckland, and later Te Herenga Waka—Victoria University of Wellington Law School, Professor Prebble began the sub-discipline that became known as 'Judisprudential Perspectives of Taxation Law.'
He put together a set of materials from legal philosophers for a Master's class, and later founded Master's courses in Wellington, Melbourne, and Sydney on this topic, as well as teaching doctoral and Master's courses at Vienna's Wirtschaftsuniversität Wien.
The internal contradictions of taxation law allows for loopholes
Tax law's internal contradictions, says Professor Prebble, enables it to be manipulated in ways that create loopholes that are exploited for tax avoidance. "There are several big international cases where courts have held in effect that law was used in ways that parliament wouldn't have permitted had they thought about it. Inland Revenue's wins in respect of arrangements in Eric Watson's Cullen Group and Danone's investment in Frucor are recent examples."
By most standards, New Zealand's tax laws are good, he says. "We don't have a lot of industry-based incentives for industries in New Zealand. We are also better at taxing the income of companies than most other countries."
One thing we are missing is a capital gains tax, something he has been writing and working in support of since the 1980s. The closest New Zealand has come to a capital gains tax was in the late 1980s, he says, but such was the furore that a coalition against the tax was led by a retired Governor-General, and supported by the Police Association.
"If anybody tries to repair holes, as that government did, it causes all hell to break loose."
New Zealand remains on a short list of developed countries that have no form of capital gains tax.
Professor Prebble has been on government committees across the years, including the Committee of Experts convened to discuss the Winebox cases in the late 1990s. "As it happened, the Winebox Inquiry was still proceeding, so we had to discuss something else. I had a list of 20 or so tax reforms with me as we began; the list became our agenda, with additions from other Committee members. Across the intervening years the Committee's recommendations were enacted in one way or another," he says.
Number one on the Social Science Research Network
A key part of his work throughout his career has been his strength in the field of legal research. A few years ago at a conference, Professor Prebble was approached by another delegate who asked, "Did you know you were number one?"
"I said, 'number one at what'? He said, 'you have more papers than any other legal scholar on the Social Science Research Network (SSRN)'. This information was a surprise, but it vividly illustrated the power of SSRN to overcome the tyranny of distance between New Zealand and the rest of the international scholarly community. SSRN became crucial to my efforts to place the Faculty of Law at the forefront of research."
Professor Prebble founded and edits an SSRN e-journal, Victoria Wellington University Legal Research Papers (VUWLRPS). He changed the standard model, to add circulation to students, who generally maintain their subscriptions after graduation. VUWLRPS now has over 9,800 subscribers, mainly legal scholars and alumni, the third largest of any SSRN legal e-journal, with over 150,000 downloads, contributing considerably to the excellent international reputation of the Faculty of Law.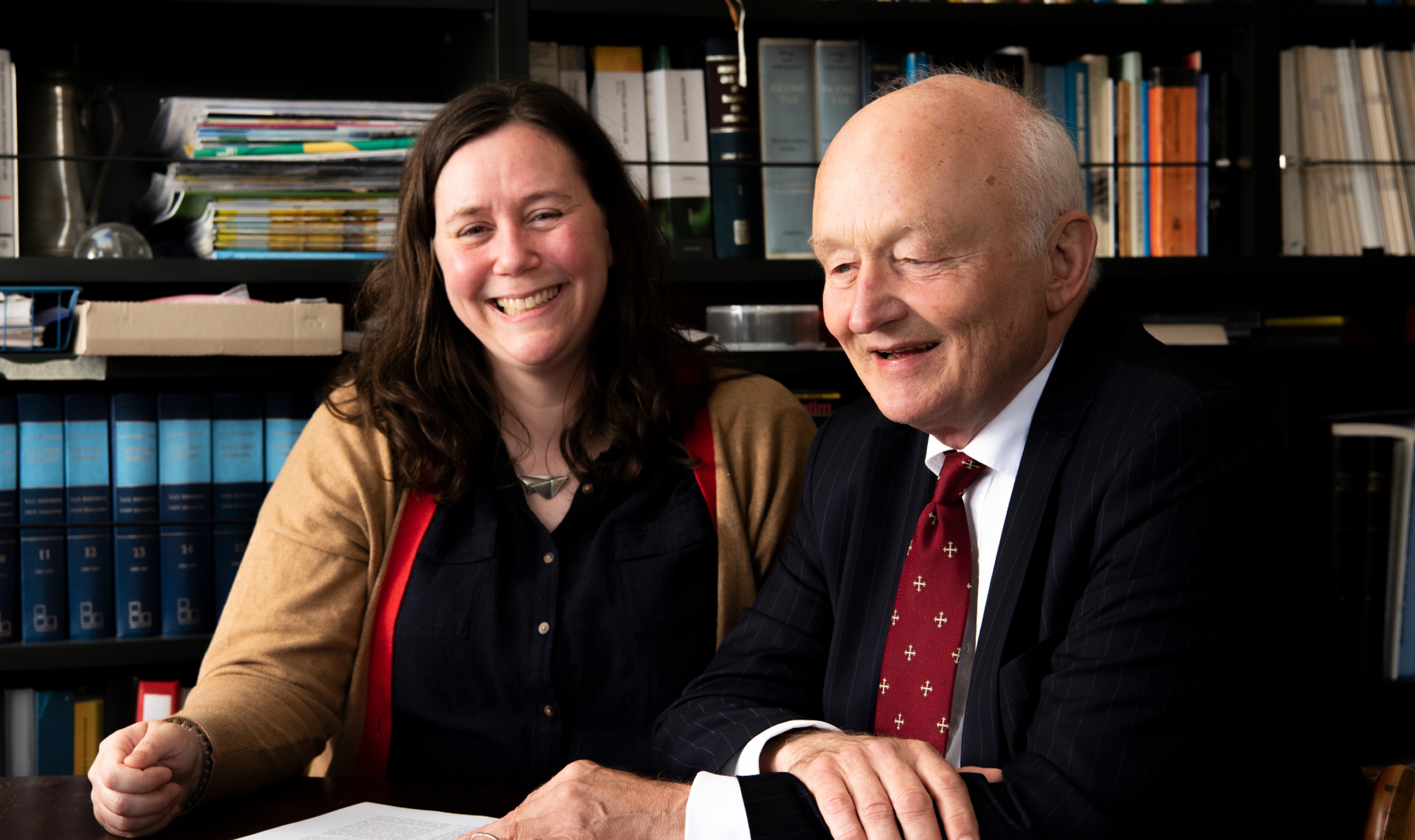 Baroque music and joke breaks
Emeritus Professor Prebble is also known for his unique manner of teaching. He plays baroque music in the background of each of his lectures, to aid with retention of information.
Dr Zoë Prebble says, "This isn't just a quirk—as with pretty much everything with John, a lot of thought and research has gone into it: baroque music has a particular tempo that is in the per-fect range to assist the brain in absorbing and retaining new information.
"He also provides for two exam rooms, so students can choose to sit in one with music, or without. He often remarks to me that most students will choose to sit in a room with the music and has based some research papers on this fact."
As well as baroque music, Emeritus Professor Prebble allows for "joke breaks"—research indicated after 45 minutes students needed a moment to refresh.
"So for the past 30 years, John had made a careful practise of stopping at the midpoint to read out a joke or two from his file of jokes he has in a folder for this purpose," says Zoë.