Four generations of Victoria law graduates
When Jack Fletcher walked across the stage of the Michael Fowler Centre this week to receive his law degree, he was following in the footsteps of not just his father, but his grandfather and great grandfather, too.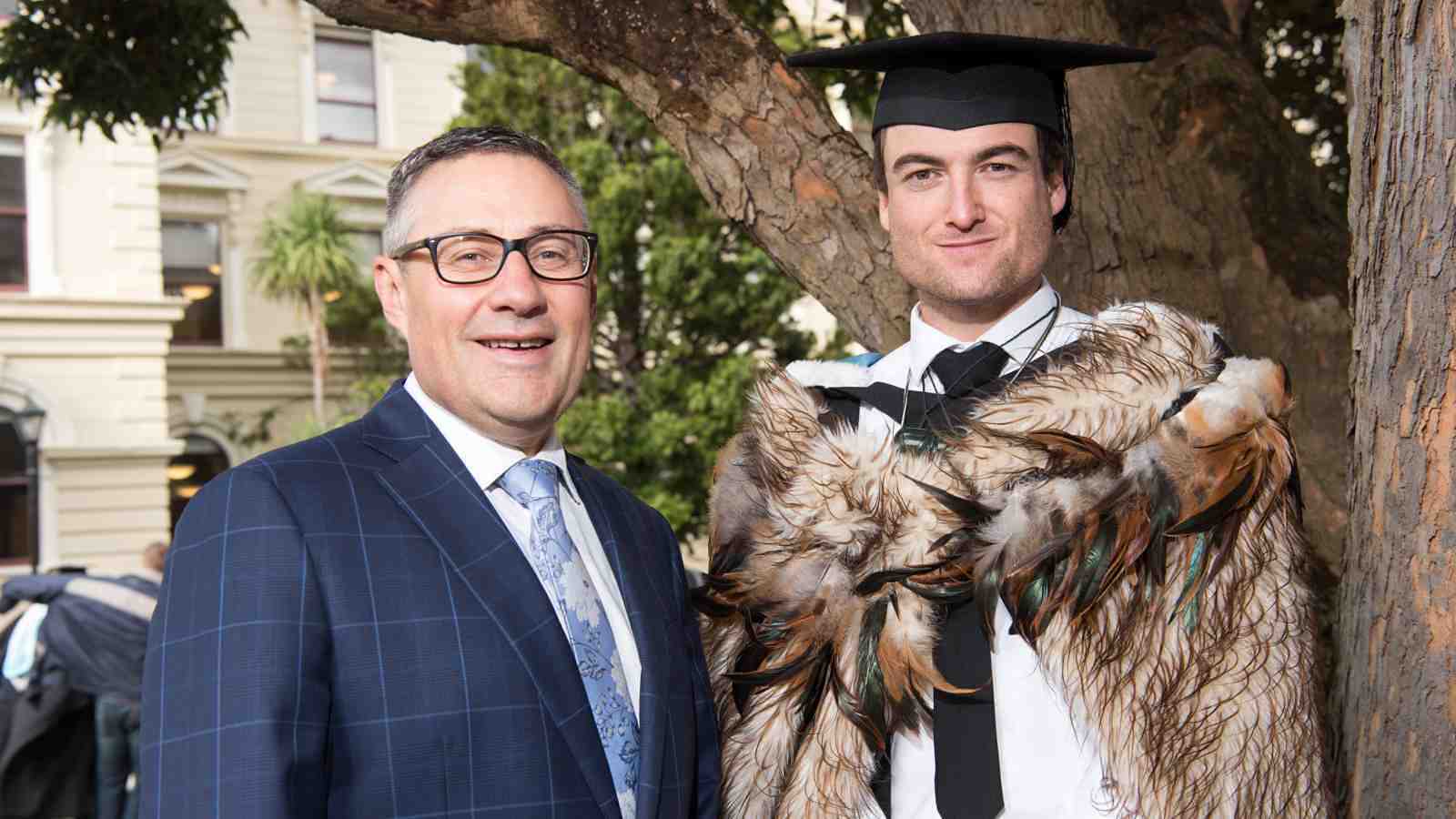 Jack Fletcher, right, with his father Hamish Quentin Fletcher.
Jack is the fourth generation of the Nelson-based Fletcher family to receive a Bachelor of Laws (LLB) from Victoria. His great grandfather Walter Vernon Roy Fletcher (Vern) was the first lawyer in the family, graduating in 1928; Jack's grandfather Ronald Alan Fletcher received his LLB in 1958; and Jack's father Hamish Quentin Fletcher graduated in 1989.
Hamish says the family tradition began when Vern was encouraged to study law by his father, Walter Harold Fletcher, who worked closely with the legal community in his role as Commissioner of Stamp Duties in the 1920s and 30s.
"My grandfather went on to practise law for 51 years, and was a founding partner of Nelson law firm Fletcher and Moore in 1950," says Hamish. "He was a specialist in town planning and local government law, and represented the Nelson City Council as its lawyer between 1933 and 1974."
Hamish's father, Ron Fletcher, worked as a lawyer for 55 years, spending most of his career in Nelson at the family practice as Managing Partner. In public life Ron played a significant part in the development of Port Nelson through his role as Chairman of the Nelson Harbour Board in the late 1970s and early 1980s.
As a child, Hamish worked for the family law firm delivering mail. "Vern used to tell me stories about working as the council solicitor and I used to visit Dad's horticultural and farming clients with him, which sparked my own interest in becoming a lawyer. My law firm still does regular work for the Nelson City Council—it's been great to continue that relationship," he says. "We also continue to act for a lot of my late father's clients, and the odd one of my grandfather's, too."
Hamish has been practising law for 28 years, spending 25 of those years working side by side with his father Ron. He then established his own law firm, Hamish.Fletcher Lawyers, in Nelson in 2003, with Ron taking on a role as a consultant. Hamish is also a partner in Oceanlaw New Zealand, which is the country's leading specialist fisheries, aquaculture and maritime law firm.
He says the legal profession has changed significantly since his grandfather's day. "Everything is much faster paced than it used to be—things used to be a lot more gentlemanly and less cut-throat than they are today."
Hamish has many fond memories of his time at Victoria. "I had some tough, amazing lecturers who pushed us harder than we would have pushed ourselves," he recalls. "I got a lot out of the Socratic method of teaching, too. It meant you had to keep up with your required readings in case you were called on in a lecture. That has helped me a lot in my professional life—it's taught me the useful discipline of always being prepared."
The family tradition almost ended with Hamish—his son Jack initially intended on pursuing a professional baseball career overseas. Jack was on the brink of taking up a scholarship to the United States after he finished high school, but an injury thwarted his plans.
"I dislocated my shoulder in my final year of high school, so took a gap year in Australia—it was then I decided I wanted to try something that would really challenge me," he says. "I knew that going to Law School would push me out of my comfort zone, and I was ready to take it on."
Jack started working with Kahui Legal at the end of his first year. "They really guided me through my studies and opened my eyes to the Māori legal space and opportunities in the Māori economy, which is a developing and really fascinating area of law."
Last year Jack was the co-president of Nga Rangahautira, the Māori Law Students Association, and took part in a programme for young Māori leaders called Tuia Te Here Tangata.
This year Jack is studying at Waikato University where he's doing a full immersion te reo Māori course. He says he is looking forward to coming back in Wellington for his graduation ceremony on May 17.
"Dad will be there to watch me graduate, and I know my grandfather Ron, who died in 2013, and my great grandfather Vern, who died back in 1979, would also be very proud of what we've all achieved as a family."