Thank you to our Supporters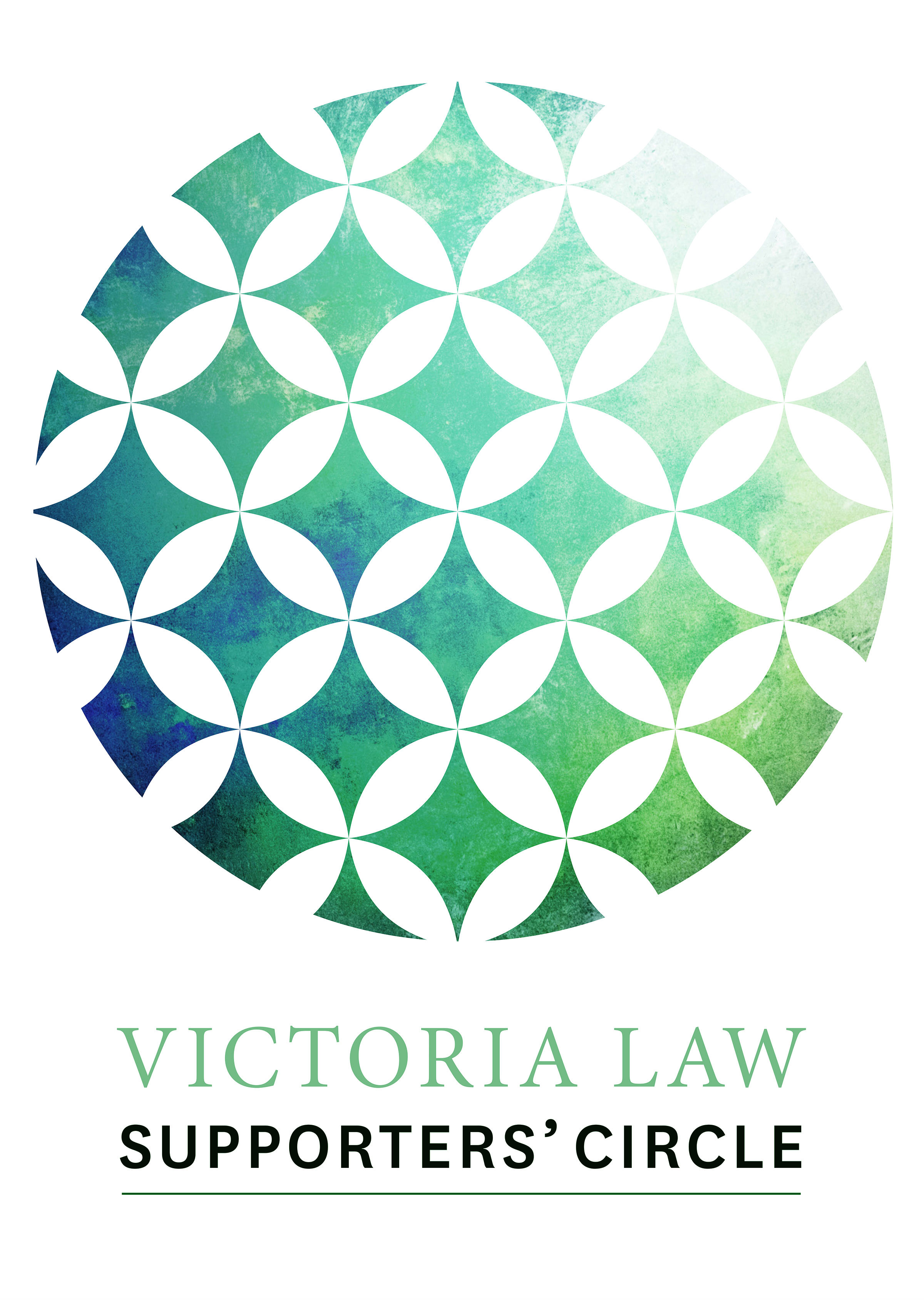 Many of our alumni and friends have chosen to generously give back to their Law School as donors and sponsors, for which we are extremely grateful. Your gifts, both large and small, have enabled students to realise their potential, academics to undertake and share sector-leading research and the Faculty as a whole to strive for excellence and compete with confidence on the world stage.
For further information about how you can make a gift to the Victoria University of Wellington Faculty of Law, contact the Development Office development-office@vuw.ac.nz.
INDIVIDUALS

Hilary Aikman
Julian Allen
Helen Anderson
Miles Armstrong
Allison Arthur-Young
Professor Graeme Austin
Sandy Baigent
Ruth Beach
John Billington, QC
The Rt Hon Justice Peter Blanchard
Judge Peter Boshier
Ian Boyd, ONZM
Ronald and Patricia Boyle
Dan Bradshaw
His Honour Judge Tom Broadmore
James Brown
Robert Buchanan
Matthew Bunting
Associate Professor Philip Burgess
Harriet Bush
Andrew Butler
Professor Petra Butler
Neil Cameron
Jean Campbell
Ross Carter
Richard Cathie, MNZM
Tim Caughley
Yvonne Chan
The Hon Justice Lester Chisholm, CNZM
Judge John Clapham
Richard Clarke, QC
Tim Clarke
The Hon Justice Denis Clifford
Lady Annette Cooke
Ed Cooke
Francis Cooke, QC
Hon Justice Stephen Kós and Jocelyn Afford
Ross Crotty
Giff Davidson, OBE
Barry Dineen, CNZM
The Hon Justice Robert Dobson, QC
Helen Donovan
Nat Dunning
Malcolm Dunphy
Mark Dunphy
The Hon Sir Eddie Durie, KNZM, LLD
The Rt Hon Sir Thomas Eichelbaum, GBE, LLD
Sir Brian Elwood
Garry Evans, QSO
Raewyn Fong
Mary Ford
Thomas Forsyth
Richard Fowler, QC
Dr Alex Frame
Kim Francis
David Friar
Graham Froebel
Judge Anne Gaskell
Judge John Gatley
The Hon Justice Warwick Gendall, CNZM, QC
Professor Yash Ghai
Dame Jennifer Gibbs, DNZM, CNZM
Linda Gillingham
Peter Graham
Neil Gray
Phillip Green
Laurie Greig
Sarah Grimmer
Hamish Hancock
Frank Handy
Angela and Gregory Hanson
The Rt Hon Sir Michael Hardie Boys, GNZM, GCMG, KStJ, QSO, LLD
Rachel Hayward
Francis Healy
Christopher Hodson, QC
Soraya & James Hogan
Professor Peter Hogg, OC, QC, LLD
Professor Emeritus Roger Hopkins
Megan Huddleston
Jo Hughson
David Hume
Walter Iles, CMG, QC
The Hon Sir John Jeffries
Ian Johnstone
Peter Jones
Daniel Kalderimis
The Hon Justice Patrick Keane
Professor Emeritus Sir Kenneth Keith, ONZ, KBE, LLD and
Lady Bishop Jocelyn Keith, CBE, DAA
Fleur Knowsley
Peter Knyvett
Margaret Lee
Derek Levett
James Lynch
Lindsay MacKay
Sir Patrick Mahony, KNZM
Ann Mallinson, QSM
Bill Mansfield
John Martin, QSO
Dr Don Mathieson, ONZM, QC
Clara Matthews
Dr Gerard McCoy, QC
Elisabeth McDonald
The Hon Justice Andrew McGechan, QC
Justice Sir John McGrath, KNZM, OC, LLD
Lucy McGrath
Gerald McKay
Judge David McKegg
John McLean
John McLinden, QC
Eileen McNaughton
John Miller
Dr Caroline Morris
John Morrison
Ross Mulholland
Professor David Mullan
Rob Munro
Associate Professor Paul Myburgh
Judge David Ongley
Angela and Ben O'Meara
John O'Regan
Paul O'Regan
Elizabeth Orr, CNZM, LitD

The Rt Hon Sir Geoffrey Palmer, QC, LLD
Judge Bruce Palmer, QSO
Dan Parker
Professor Bob Paterson
Stephen Perrott
Sam Perry
Rachel Plimmer
Gary Plowman, QC
Michael Powles
Professor John Prebble, QC
Dame Alison Quentin-Baxter, DNZM, QSO, LLD
Bernie Randall
Dame Patsy Reddy, DNZM
Michael Reed, QC
Hugh Rennie, CBE, QC & Penelope Ryder-Lewis
Audrey Ricketts
Christine Robertson
Fay Robertson
Sir Bruce Robertson, KNZM, QC and Lady Lyn Robertson
Helen Salisbury
Nicola Salmond
Alastair Salmond
Sir Anand Satyanand, GNZM, QSO
Digby Seales
Larry Seales
Debra Seales-Meichtry
Professor Masaharu Senzu
Graham Shaw
Audley W Sheppard, QC
Warren Sisarich
Abi Skelton
Professor Tony Smith
Paul Stacey
Terry Stapleton
Charlotte Steel
Paddy Steele
Christine Stewart
Carole Sweney
Dr Graham Taylor, QC
Malcolm Templeton, QSO
Denis Thom
Andy Thomson
Garth Thornton
Prue Tyler
John Upton, QC
Matt Vickers
Robin Vickers
Marilyn Wallace
William Wiggs, MNZM
The Hon Justice John Wild, QC
Mike Wilkinson
Derek Williams
The Hon Justice Sir John Williams, KNZM
The Woodhouse Family
Po Wong
Peter Young

ORGANISATIONS

A J Park
Allens Arthur Robinson
Arbitrators' and Mediators' Institute of New Zealand
Australian and New Zealand Society of International Law
Brandons Lawyers
Buddle Findlay
Butterworths of NZ Ltd
Cambridge University Press
Chapman Tripp
Chen Palmer
Cullen The Employment Law Firm
Embassy of the Federal Republic of Germany
European Commission
FairWay Resolution Limited
The Federation Press
Field Court Chambers
Fonterra
Greenwood Roche
Google
GPG Pty Ltd
Harkness Law Limited
Interights
InternetNZ
Izard Weston
Law Ball Donations
Law Commission
LexisNexis
Ministry of Foreign Affairs & Trade
Ministry of Justice
Minter Ellison Rudd Watts
Nat Dunning Law
New Zealand Association for Comparative Law
New Zealand Institute of Advanced Legal Studies
New Zealand Insurance Law Association
New Zealand Law Foundation
New Zealand Law Society
New Zealand Red Cross
Option
Oxford University Press Australia and New Zealand
Parliamentary Counsel Office
Resolution Institute
Rotary Club of Waikanae
Rotary Club of Wellington
Shanahan Law
Simpson Grierson
State Services Commission
Stout Street Chambers
Supreme Court of New Zealand
SweeneyVesty
Te Runanga o Ngai Tahu
Thomson Reuters New Zealand Ltd
Victoria University of Wellington Law Students' Society
Victoria University of Wellington
Wellington District Law Society
Wellington Women Lawyers Association
Innovation Partners
LexisNexis
Thomson Reuters
Donors to Faculty Prizes
Every year the Dean of Law gives prizes to recognise the Faculty's top students. Many of these prizes are associated with alumni and, wherever possible, we give the background stories to their presence.
A H Johnstone Scholarships in Law
These scholarships originate from a bequest by Sir Alexander Howard Johnstone QC, BA, LLB, a former student of what was then Victoria College.
AJ Park Prize in Intellectual Property
A J Park is a nationwide intellectual property firm. This prize is awarded to the student who attains the highest score in the Intellectual Property final examination.
Archibald Francis McCallum Scholarship in Law
The late Richard McCallum of Blenheim bequeathed to his trustees the sum of $1000 to found a scholarship at Victoria University of Wellington in memory of his son Archibald Francis McCallum. His widow, Winifred Mary McCallum, and his son Richard Hamilton McCallum, have added an additional $1000.
The purpose of this award is to provide financial assistance to students studying property law at Victoria University of Wellington. Scholars must, during the tenure of the Scholarship, remain internal students pursuing their studies at the University for the degree of LLB or the degree of LLB (Hons).
Bernard Randall Prize in Family Law
This prize was established by Bernard Randall, a former graduate of the Law School at Victoria University of Wellington, and is awarded annually to the top student in LAWS 370—Introduction to Family Law.
Chapman Tripp Prize
This award, known as the Chapman Tripp Sheffield Young Centenary Award, was established by the University's solicitors, Chapman Tripp, to mark its centenary in 1975 and is awarded to the best student graduating LLB or LLB (Hons).
Chris Highfield Memorial Prizes in Judicial Law and Public Law
These prizes arise from a fund donated in 1982 by the Petone Branch of the New Zealand Labour Party in memory of Chris Highfield, a Victoria University of Wellington Law student who had cystic fibrosis from birth and who died shortly after his graduation with an LLB from the Law School.
Coleman-Brown Memorial Award
This memorial award was established through the Victoria University of Wellington Foundation to honour the memory of Felicity Giselle Coleman-Brown, 1954–1988, graduate of the University of Michigan and Juris Doctor (1983), sometime student of Comparative Law at the University of Vienna, and an attorney-at-law. The award recognises the achievement of outstanding female students in the field of jurisprudence, especially American jurisprudence.
Colin Patterson Memorial Prize
This prize and associated fund was established by the family of Colin Patterson, a leading practitioner in Commercial and Company Law and Chairman of the Securities Commission, in recognition of his contribution to the discipline of law. It is awarded for the best piece of writing by a student in Commercial, Securities or Company Law.
Cullen Prizes in Employment Law
Cullen, the employment law firm, has established these prizes to recognise the scholarship of top students in an area of law that touches the lives of most people, and to support Victoria University of Wellington.
LEADR Prize in Dispute Resolution
This Prize is offered annually by the New Zealand Chapter of Lawyers Engaged in Alternative Dispute Resolution (LEADR) for the student completing best work in Dispute Resolution.
Lord Cooke of Thorndon Prize
This prize was established in 2000 by Lord Cooke of Thorndon, former President of the New Zealand Court of Appeal Court of Appeal, and subsequently a Law Lord of the House of Lords until his death in August 2006.
It is awarded annually to a student who has achieved an outstanding result in his or her law courses, is commencing the Honours programme and is considered by the Dean of Law to be the best student entering that programme and worthy of the prize.
NZILA Insurance Law Prize
This prize is provided by the New Zealand Insurance Law Association (NZILA).
The prize is awarded to the student attending the class in Insurance Law (LAWS 358) who, in the opinion of the course coordinator, is the best student of the trimester in this class and worthy of the prize.
One prize is offered per trimester in which LAWS 358 is taught.
NZ Law Review Prize
The Legal Research Foundation and the New Zealand Law Review each year award three-year subscriptions to the New Zealand Law Review to three students who have completed in the year of the award their final 200-level LAWS course and achieved the best work in aggregate over the four 200-level LAWS courses.
Quentin-Baxter Prizes in International Law and Public & International Law
Professor Quentin Quentin-Baxter was appointed a Professor of Law at the Faculty in 1968, after a diplomatic and legal career in Foreign Affairs.
He was one of New Zealand's most distinguished public lawyers and a significant figure on the international legal stage.
Robert Orr McGechan Memorial Prize
This prize arises from a fund subscribed by students, staff and friends of Victoria University of Wellington to commemorate the work of Professor Robert Orr McGechan in the Chair of Jurisprudence and Constitutional Law 1940–1954. It is given to the student who submits the best work for the Victoria University of Wellington Law Review.
Thomas Reuters Prizes in the Law of Contract and Jurisprudence
Thomas Reuters is a major publisher of law texts.
Vic Books Award for Best Tutors
Vic Books is the Faculty's local bookshop and is situated on the ground floor of Rutherford House.
Its prizes are for tutors in LAWS 211, 212, 213, 214 and 301.
Val Gormly Memorial Prize
This prize is awarded to the most successful student, in terms of total marks obtained throughout the year, in Property Law 301.
Mr Derek Levett donated $2000 to the Victoria University of Wellington Foundation, to be used for an annual prize of $500 for four years, commencing in 2009.
Val Gormly was the Senior Clerk and later the Assistant Land Registrar in the Land Transfer Office, Wellington, in the 1950s and 1960s. Mr Gormly encouraged Mr Levett to enrol to study for a law degree during those years. He graduated LLB in 1963.
***
Thank you to the Law firms who also contribute to the annual Law Students' Society competitions:
Bell Gully Mooting; Buddle Findlay Negotiation; Buddle Findlay Junior Mooting; Chapman Tripp Junior Negotiation and Minter Ellison Rudd Watts Witness Examination.
Disclaimer: Every effort has been made to ensure the above information is current and correct. However, applicants should contact the appropriate administering body before making an application, as details do change frequently.