Language in the Playground Project
The Language in the Playground research project focused on NZ children's playground vocabulary, funded by the Royal Society of NZ through the Marsden Fund. The project ran from 1999–2001 in the School of Linguistics and Applied Language Studies at Victoria University of Wellington. The principal investigator was Professor Laurie Bauer, and he was assisted by Dr Winifred Bauer.
The principal aim of the research was to find out whether the playground vocabulary used by NZ primary school children showed signs of dialectal variation. Through this, it was hoped that some insights might be obtained into the birth and development of regional dialects, and that some light might also be shed on the dual role of children as conservators and as innovators in language change.
You can find the detailed findings of the research on the Table of Contents page. There are documents which background the study and its methodology, documents which present the findings in relation to each item of the questionnaire which was the basic data collection instrument, and some documents which present material which was obtained as a by-product of the study: information on the games children play, and their rules. The references for all documents are provided in one separate document. Warning: the maps included in these documents display well at 100% and 200% magnification but are distorted at intermediate sizes.
A summary of the project is presented in the book Playground Talk which is available from the School.

Emeritus Professor
School of Linguistics and Applied Language Studies

VZ415, Von Zedlitz Building, 26 / 28 Kelburn Parade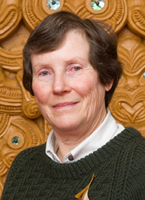 Winifred Bauer
No result found for: winifred.bauer@vuw.ac.nz