Making the couch sustainable
Steven Almond, Entrepreneur in Residence in The Atom, has redesigned the couch to make it sustainable—but that's just the start of his plans.
Reducing the amount of waste we produce is one of the keys to curbing the devastating impact throwaway culture is having on the natural environment. But there is one major barrier that gets in the way—our inability to repair our own products.
Steven Almond, an industrial designer by trade, experienced this first-hand when he decided he wouldn't buy anything new for a year and needed to fix his sofa.
"I had to fix my sofa, but I couldn't," says Steven. "That experience opened this huge Pandora's Box of issues. Why do things become obsolete? Why can't things be repaired? Why are things designed the way they are? I wanted to do something better."
Steven is the founder of Marzipan Design, a startup based in The Atom Innovation Space at Wellington School of Business and Government, and the creator of the sustainable sofa—which he designed while completing his Master of Design at Te Herenga Waka—Victoria University of Wellington. Unlike a regular, mass-produced, sofa, Marzipan Design's sofa can be easily repaired or recycled.
"Because of how most mass-produced sofas are made, and what they are made from, there is no way to repair or recycle them easily and cost-effectively. So, they go to landfill whole, which is really wasteful," says Steven. "The sofa I've designed has a steel frame which is easily recycled, with a replaceable and biodegradable coconut fibre spring base for suspension. I also used some common materials, such as common foam and fabric, to make it easy to replace them if they wear out."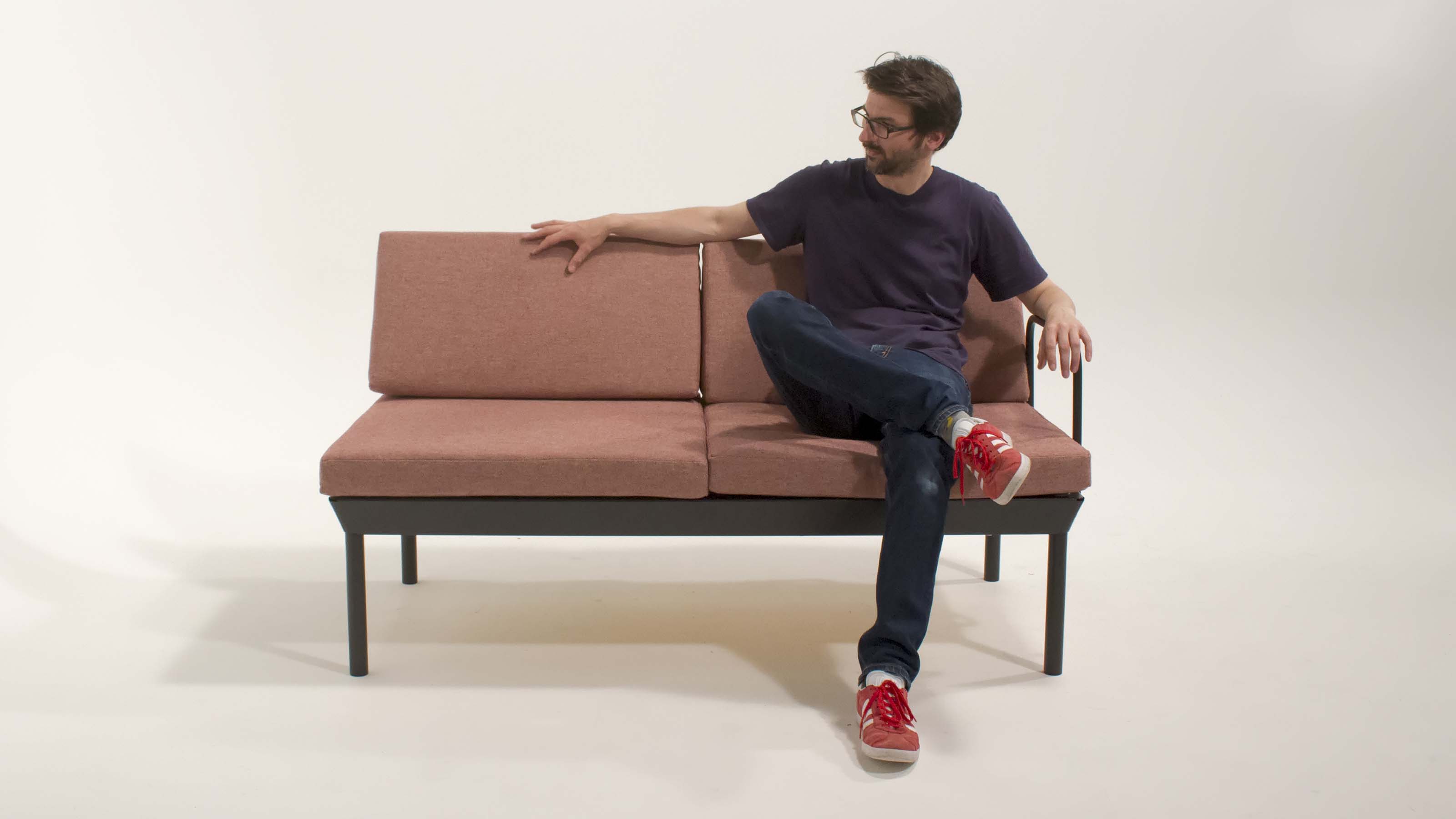 The sofa has been designed with the circular economy in mind—a concept developed by the Ellen MacArthur Foundation that is based on three principles: keep materials in use, design out waste, and regenerate natural systems.
"My sofa isn't made from anything particularly remarkable, it's how it's put together that's important," says Steven.
"My sofa is designed to last longer and that's where you get the saving in carbon and pollution and all the other environmental aspects. It's not that it's made from some incredibly eco-friendly material because I couldn't find any that would perform as well, without adding significantly more cost. And, many of the materials I assumed had less environmental impact, had different impacts when I researched the full material life-cycle.
"I think there's been a huge pressure to build things more affordably and that's put a lot of pressure on the reparability of the product. But there are a lot of products coming out now which aim to change this."
While the sofa is still a prototype it is already receiving industry attention—Steven recently won the L'affare Innovation in Sustainability Award at the 2019 ECC NZ Student Craft / Design Awards for the sofa's design.
"All of the judges for the award were industry experts who are working on sustainability projects day-to-day for renowned Wellington companies. It was great to get that recognition that my thinking is on the right track," says Steven.
Going forward, Steven plans to licence his design to manufacturers with the goal of eventually licencing a suite of products that all follow the same design approach. It's a big goal, but Steven has a lot of support from his home base in Wellington School of Business and Government's Atom Innovation Space—a co-working space which provides a place for student businesses to base themselves as well as receive advice and support from Wellington School of Business and Government's academics and established entrepreneurs who have done it all before.
"Through the University's Entrepreneur Bootcamp I've found a mentor, Bart de Vries from Limber. Limber is a furniture startup, so Bart is in the same sort of space and he's very focused on sustainability. Together we've been working through the different options I have for getting the sofa to market," says Steven. "I've also got ongoing support around how to build my business—which is fantastic."
Read the original article on #nzentrepreneur.