Student profiles
Hear from students about their experiences at the School of History, Philosophy, Political Science and International Relations.
Daniel Gamboa Salazar
Bachelor of Arts student in International Relations.
"The University gave me the strength to overcome my refugee past and the critical thinking skills to help those in the same situations.
"I came to New Zealand as a refugee from Colombia. Since I heard that Victoria University of Wellington has one of the best Political Science and International Relations programmes in New Zealand, I knew I wanted to study here.
"It seemed almost impossible to start my degree because I didn't speak English and my Colombian school qualifications weren't up to the New Zealand academic standards. However, the University gave me the tools and support through the English Proficiency and Foundation Studies programmes to successfully start my Bachelor of Arts.
"International Relations has opened my eyes to many new perspectives. It has even helped me to explore and finally understand the conflict in my home country, Colombia. On the other hand, Political Science has helped me to understand the way my new country, New Zealand, works.
"The University encouraged me to step outside my comfort zone and put into practice what I learnt in the classroom. All the knowledge that I've acquired, and am still acquiring from my degree, has enabled me to become the president of the New Zealand National Refugee Youth Council."
Sophia Enright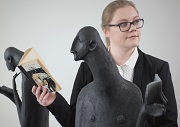 Bachelor of Arts student in Philosophy.
"Kia Ora. I am currently enjoying my Bachelor of Arts, majoring in Philosophy and Media. I chose to study Philosophy as I wanted to learn a more critical, discerning thought process, while being exposed to various new ideas and theories. Philosophy is a highly versatile subject, and the skills it teaches also complements many other reading and writing based subjects.
"There are various different areas to choose from, including ethics, aesthetics, epistemology or logic. One of the best parts about Philosophy is the encouragement students get to engage in open discussion, bolstering analytical thought and creative new ideas.
"Philosophy teaches fantastic skills through formal writing, critical analysis and adaptable approaches to concepts. It's very empowering, learning how to conduct independent research and objectively approaching arguments while developing your own critical claims. Establishing these skills and getting used to a higher, conceptualised thought process is a great reason to take Philosophy."
Alex Dickson
Master of Strategic Studies.

"Having completed my BA at another university, I was drawn to Victoria's Master of Strategic Studies (MSS) programme for several reasons. Firstly, the MSS is well suited to students who are passionate about multiple humanities subjects—for me they're history, philosophy, and international relations. Secondly, the MSS offered something I hadn't encountered elsewhere—the opportunity to learn about the various tools used in statecraft, security and foreign policy planning.
"Over Summer I was able to put some of these tools into practice while working as a research intern at the Ministry of Foreign Affairs and Trade. Dovetailing my MSS research paper—which considers New Zealand's future foreign policy choices—I was fortunate enough to attend the 45th St Gallen Symposium in Switzerland, joining others in debating the future of small states.
"MSS courses are run by passionate academic staff, and are designed to provide practical skills for use in real world contexts. I have the programme to thank for the opportunities that have come my way."