PSIR publications
Find out about recent major publications from staff in the Political Science and International Relations programme.
Recent major publications
Stephen Levine (ED)
Politics in a Pandemic, Jacinda Ardern and New Zealand's 2020 Election (VUP, 2021)
2020 was a year unlike any other. Still in her first term as prime minister, Jacinda Ardern found herself facing her biggest challenge yet – protecting New Zealanders against a worldwide pandemic. By year's end New Zealand had kept its nerve, protected its borders, and for the most part kept its residents alive and well. In the midst of all this an election was held.

Politics in a Pandemic provides a deeper understanding of what happened during the election, which was held in the most difficult circumstances facing New Zealand since the Second World War.
It includes contributions from the New Zealander of the Year, Jacinda Ardern, and the Wellingtonian of the Year, epidemiologist Professor Michael Baker, as well as the National Party's Judith Collins, Greens' co-leaders James Shaw and Marama Davidson, ACT's leader David Seymour, the Minister for Covid-19 Response Chris Hipkins, and award-winning journalists Tova O'Brien and Henry Cooke, along with many other reporters, pollsters and academics, together providing 35 perspectives on the election. Personal reflections are complemented by UMR survey results, first-hand campaign accounts, the perspectives of overseas observers, and analysis of everything from political cartoons and billboards to leaders debates, political party funding, policy and populism. It covers the departure of New Zealand First, the return of the Māori Party, nationwide referendums on euthanasia and the legalisation of cannabis, and the Christchurch mosque attacks. But ultimately, the 2020 election was a referendum on Jacinda Ardern's leadership in a time of pandemic. This book explains why she won and what this might mean for the country's future.
Politics in a Pandemic is the twelfth in a series of election books going back to 1987 – including The Baubles of Office (2007), Kicking the Tyres (2012), and Stardust and Substance (2018) – essential for anyone interested in New Zealand's government and politics.
Jack Vowles
A Populist Exception? The 2017 New Zealand General Election (ANU Press, 2020)
The "spectre of populism" might be an apt description for what is happening in different parts of the world, but does it apply to New Zealand? Immediately after New Zealand's 2017 general election, populist party New Zealand First gained a pivotal role in a coalition with the Labour Party, leading some international observers to suggest it represented a populist capture of the government. The leader of New Zealand First, Winston Peters, justified his support for Labour as necessary to allow capitalism to "regain… its human face". The new prime minister, Jacinda Ardern, spoke of a kinder, more inclusive politics.
This book draws on the 2017 New Zealand Election Study to uncover New Zealanders' political attitudes and preferences post-election. Its authors ask: is New Zealand now a populist exception? Through detailed empirical analyses of how populism and authoritarianism affected vote choice, opinions about immigration, satisfaction with democracy, and the relevance of gender and indigeneity to these issues, this book finds that New Zealand politics today does not reflect the international trend toward ideological polarisation and electoral volatility.
The authors argue that inclusive forms of populism can be pluralist if a leader's rhetorical approach recognises "the people" as diverse and encompassing. A Populist Exception? concludes that although populism has long been a strong current in New Zealand history, contemporary New Zealand exhibits a moderate form of populism, with liberal and pluralist values in balance with a strong commitment to majoritarian democracy.
---
Patrick Flamm
South Korean Identity and Global Foreign Policy—Dream of Autonomy (Routledge, 2019)
In the 20th century, South Korea was usually seen as a "shrimp amongst whales", a minor player with limited agency in regional and global affairs. Korea's risen status as a "middle power" today, however, raises the question about related changes in the South Korean identity or "sense of self" in the world.
In this book, Patrick Flamm presents the first comprehensive and agency oriented empirical account of South Korean international state identity and Seoul's global foreign policy in the 21st century. Advancing a performative and narrative understanding of identity in International Relations, Flamm uses South Korea's global engagement in peacekeeping and climate diplomacy to offer much-needed insight into the various identity narratives and role conceptions at play.
In the case of peacekeeping and climate diplomacy, South Korea's identity as an international actor has been dominated by practices of self-identification that position the country at the brink of advanced countries, aspiring to lead the rest of the world but with the overall objective to maintain national autonomy in a changing regional and global context.
Find out more about this book.
---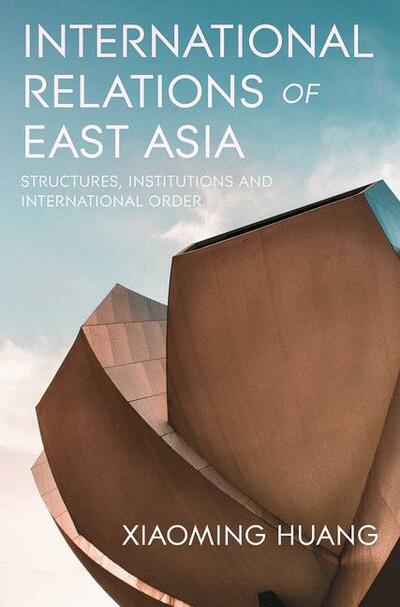 Xiaoming Huang
International Relations of East Asia: Structures, Institutions, and International Order (Red Globe Press, 2019)
East Asia's rapidly changing role in international security, the global economy, development, and global governance are expertly accounted for in this much-needed, state-of-the-art text. Xiaoming Huang offers an engaging and informed account of the key concepts, issues, and actors working in this area. Ranging from the region's history to culture and a comparative assessment of the region's states, this text is informed throughout by a compelling theoretical framework.
In so doing, it unpicks the often complex relationships both at the domestic level and externally. Only with this understanding is it possible to make sense of the region's complex relationships both internally and externally. Structured around key concepts in international relations of war and peace, economic development, and increased contemporary security threats, this text offers an empirically-rich, engaging account of the changing fortunes of East Asia.