Elizabeth Bisley
After studying at Victoria University of Wellington, Elizabeth went on to work for the V&A in London.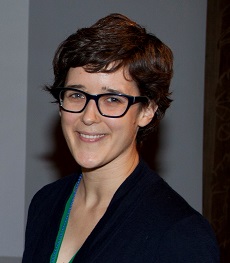 Elizabeth Bisley graduated from Victoria University of Wellington in 2003 with an Honours degree in Art History. After working as a Research Assistant at City Gallery Wellington, she moved to London in 2007 to do an MA in History of Design at the Royal College of Art. This degree was funded in part by a William Georgetti scholarship and a bursary from the New Zealand Federation of Graduate Women. After finishing her MA, Elizabeth worked in London as a freelance Research and Editorial Assistant. She contributed to several book projects, including a multi-volume catalogue of the V&A's French eighteenth-century furniture collection. In 2011 she started work as an Assistant Curator at the V&A, in the Department of Furniture, Textiles and Fashion. Since starting at the museum she has worked on major projects including as Assistant Curator on the opening of a new, permanent furniture gallery.
Elizabeth Bisley was the co-curator of the 2017 exhibition, Plywood: Material of the Modern World, at the V&A.
Related links