Alice Tappenden
Meet Alice, a Victoria University of Wellington graduate and Trustee of Enjoy Public Art Gallery.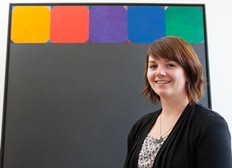 As a recent graduate of Victoria University of Wellington's Art History programme, I have found that the study of art doesn't necessarily focus on artworks alone. Art History's expanded field includes creators and curators, socio-political contexts, theoretical interpretations, and, most importantly for my research, a viewer's subjective understanding of the artwork. In my MA thesis, which was completed in 2013, I investigated the notion of interpretation via the works of Peter Peryer, a New Zealand photographer.
Having previously studied at the University of Canterbury, and as an exchange student at the University of Oxford (UK), I was enticed to Victoria University of Wellington by the opportunity to be supervised by Prof Geoffrey Batchen, and I found the department welcoming and supportive. While completing my Masters, I presented papers at conferences in Sydney, Wellington and Christchurch. I volunteered for the Victoria Art Collection, published an article in Art New Zealand, and tutored for two undergraduate Art History papers. These opportunities nicely complemented my academic studies, providing me with invaluable practical experience—a must for anyone considering a career in the arts. In addition to my job as a research development advisor at Victoria University of Wellington, I am a Trustee of Enjoy Public Art Gallery, Wellington.