Oceania: Royal Academy of Arts
Senior Lecturer in Art History Dr Peter Brunt has co-curated the United Kingdom's first major show to explore Oceanic art, at London's Royal Academy of Arts.
Oceania celebrates the art of Melanesia, Micronesia and Polynesia, encompassing the vast Pacific region from New Guinea to Easter Island, Hawaii to New Zealand.
The exhibition brings together around 200 exceptional works from public collections in British, European and New Zealand museums and spans over 500 years of art. Some of the historic objects in the show have remained unseen in the stores of European museums for more than a century .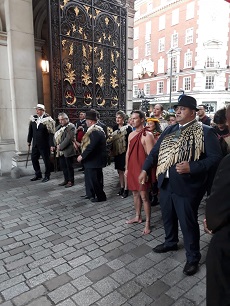 Highlights of the exhibition include the 14th century wooden Kaitaia carving, excavated in 1920, one of the oldest known objects to have been found in New Zealand; an 18th century Heva Tupapau—or Chief Mourner's costume—from Tahiti, one of only six known examples in existence; as well as one of the stars of the 2017 Venice Biennale—the vast panoramic video In Pursuit of Venus [infected], by New Zealand multi-media artist Lisa Reihana, charting the arrival of the British in the South Pacific and its consequences.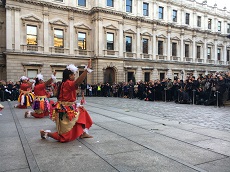 A documented but previously unseen object from the British Museum is an enormous wooden feast bowl from the Solomon Islands, which has the head of a crocodile holding a carved human head in its teeth.
The art of Oceania is Dr Brunt's area of expertise and he has been working on the exhibition with Professor Nicholas Thomas, Director of the Museum of Archaeology and Anthropology at the University of Cambridge since 2013.
The show opened in September 2018 in London and travelled to the Musee du Quai Branly, Paris, in March 2019.
Read about the exhibition opening and reviews: