Study hard and dream higher
When Shekyna Lolouta's grandfather returned to Samoa in 2019 his wish was to see his granddaughter fulfill her childhood dream of becoming a secondary school teacher. Thanks to a Ngā Hoe a Kupe Pathfinder Scholarship, this dream is set to become reality.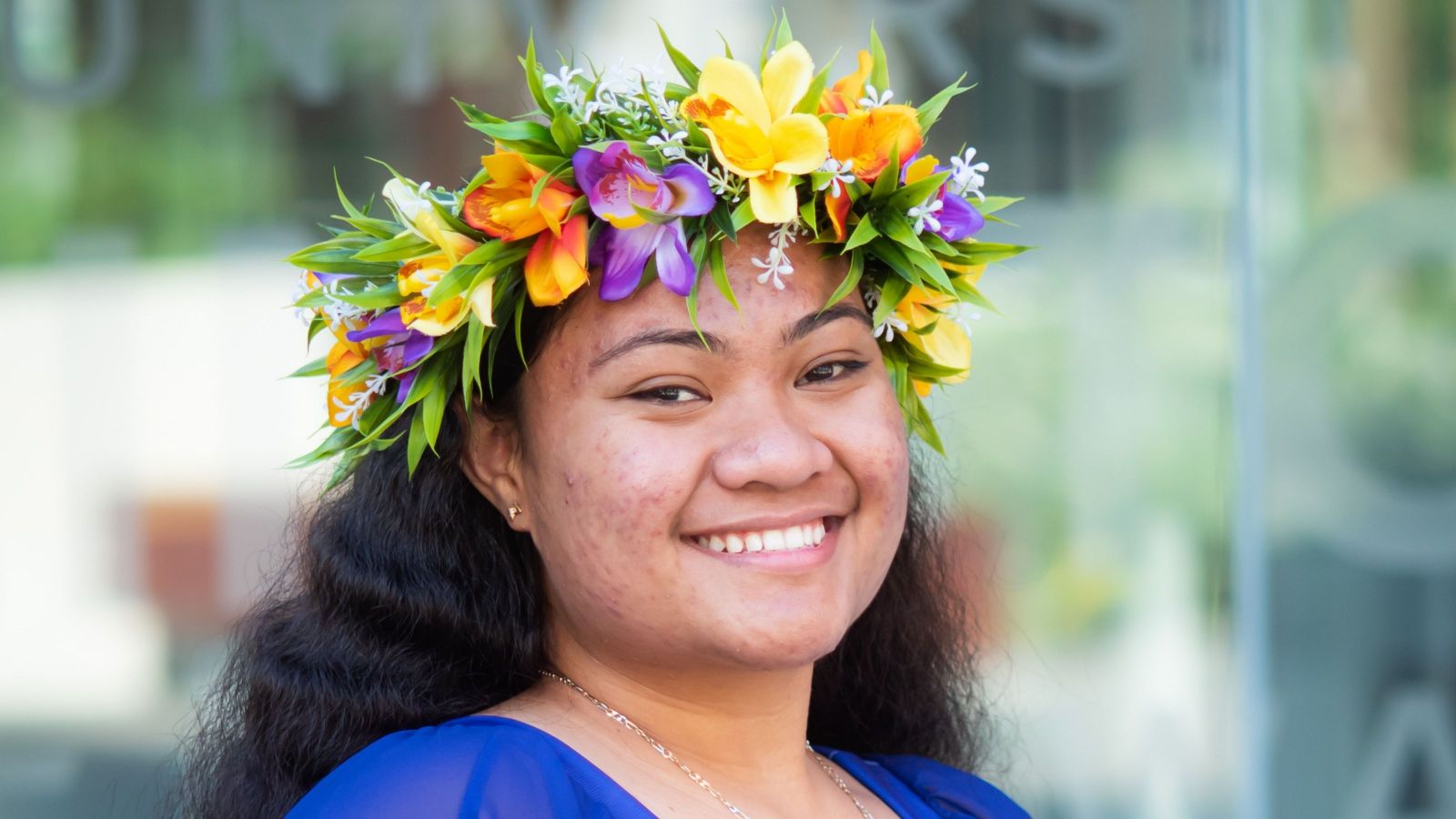 The 19-year-old is now on her way to achieving that goal, as one of 12 recipients of the inaugural Ngā Hoe a Kupe Pathfinder Scholarships.
The scholarships, worth $50,000 over three years, are offered by Te Herenga Waka—Victoria University of Wellington to students from eight secondary schools across the Wellington region. They provide guaranteed financial support as well as academic mentoring and other assistance.
Shekyna grew up in Samoa with her grandparents, before moving back to New Zealand to live with her parents and attend Naenae College in 2017. She is the first in her family to go to university and hopes her younger siblings will follow her example, to "study hard and dream higher".
"Receiving this scholarship means so much to me because I knew I could go to university without having to worry about costs holding me back. I could make my family proud and go even bigger and better in life…I can inspire others to follow in my footsteps and reach their goals too," she says.
One of four siblings, Shekyna always worked hard at school achieving top grades. As the second eldest child, she was also busy at home being a major support for her Mum, who has a long-term health condition. Her Dad, who she describes as her "biggest helper and advisor" is the full-time worker in the family.
"I play my mother's role most of the time because I know her condition is not as good as it used to be. I make sure to always help out around home in any way I can to make it easier on my Mum."
Shekyna also helps her younger siblings and a cousin, who lives with the family, with their homework and advice about school.
Studying for a Bachelor of Arts majoring in Samoan Studies and Mathematics, Shekyna says her first year at Te Herenga Waka has been both challenging and rewarding.
"It has been challenging balancing the numerous courses and doing well in them all. Adapting to the way courses are taught and the expectations and grading. This was a big one for me, coming from college I was getting top grades and then I found it harder to get A grades at university. Since I am so hard on myself it is a challenge to keep my head held high, but I have learnt to change my mindset and be happy knowing I've done my best."
The scholarship includes a year of accommodation in a student hall of residence and Shekyna is in Weir House, which she loves.
"Being able to experience independence, having my personal space and time alone, and getting to know more people and making connections that will help me in the future," are the things she counts as highlights.
Shekyna has joined the Wellington Plus Programme, the university's service, leadership and development programme.
"I want to be a leader in my community and I started that in my last few years of College, arranging events and having the Porirua Mayor come and visit."
She volunteers for her community, helping with Pasifika events at the University and is a youth leader for her Church.
Shekyna says the application process for the scholarship was straightforward and there was always someone from the University, including the Pasifika Outreach Adviser, available to help with any questions or concerns.
Her goal this year is to pass all her courses, become more confident and develop a good understanding of being a university student.
Longer term her goal is to achieve that childhood dream of finishing her degree and becoming a secondary school teacher - for herself and for her family.
"My grandfather's last wish for me before he went back to Samoa in 2019 was for me to become a teacher. I really want to make it happen."
Applications are open now for the Ngā Hoe a Kupe Pathfinder Scholarships.