Pasifika student boosted by postgraduate scholarship
Student receives new scholarship set up to help Pasifika students into postgraduate Business Studies.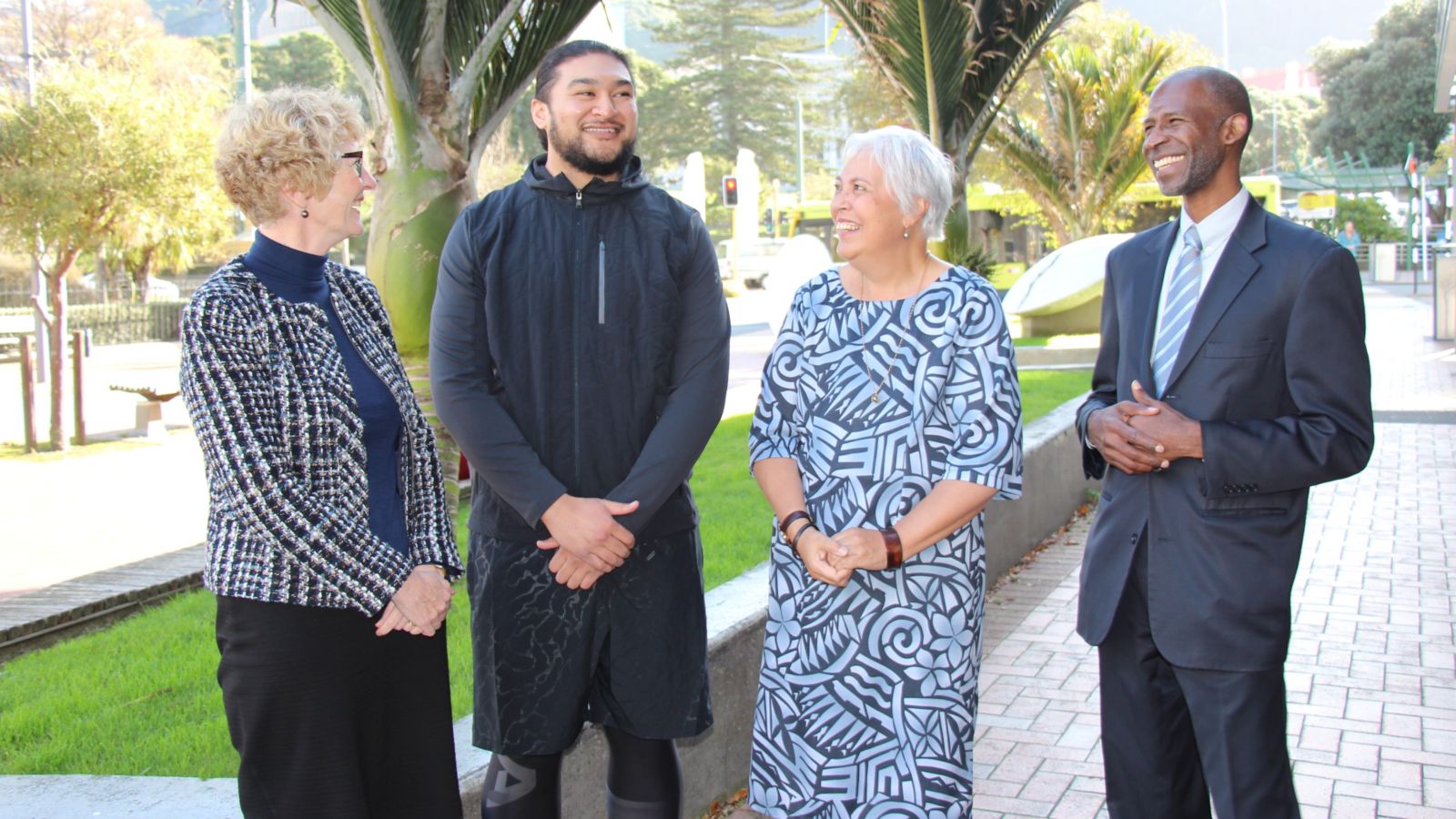 Jane Bryson (Acting PVC and Dean at WSBG), Panapa Leatuavao, Dame Winnie Laban, Ian Williamson (former PVC and Dean).
Too often life and circumstance mean that Pasifika students at the University are unable to carry on their studies to postgraduate level. Not so for Panapa Leatuavao, the first student to receive a new scholarship established to support Pasifika students undertaking postgraduate studies in Business.
The Luamanuvao Dame Winnie Laban Pasifika Business Postgraduate Degree Scholarship was established by Professor Ian Williamson, formerly Pro-Vice Chancellor and Dean of the Wellington School of Business and Government (WSBG) and named for Dame Winnie Laban, Assistant Vice-Chancellor (Pasifika), a proud advocate for seeing more young Pasifika people realise their dreams of a university education and in particular for greater representation from the Pasifika community in the New Zealand business sector.
"One of the most life-changing events that can happen to a person is gaining access to a world-class education. This was certainly true for me.
"It is wonderful that the Luamanuvao Dame Winnie Laban Scholarship will help Panapa have this experience as well. I look forward to seeing the many wonderful things he will accomplish with this degree," said Professor Ian Williamson.
Scholarships like this aim to help remove barriers that Pasifika people may face in accessing the skills needed to thrive in New Zealand's business sector and is a step towards a more vibrant and innovative Pasifika business community.
"For many Pasifika people, other responsibilities, like family, can get in the way of pursuing postgraduate study. In today's society, it's crucial that Pasifika people have the same opportunities as others to continue their academic journey and scholarships like this go a long way to enabling them to make that a reality," said Dame Winnie Laban.
Panapa hopes to work in the tourism industry once he completes his studies, but after completing his Bachelor of Tourism Management he was unsure whether he would be able to continue his studies to postgraduate level. However, thanks to a generous gift from the former head of the WSBG, Panapa is now studying for a Master of Global Business.
"This scholarship has had a massive impact, just knowing it will ease the financial pressure has made the decision to undertake postgraduate studies much easier.
"I would like to thank Ian for selecting me for this scholarship and for his continuous support and encouragement throughout the process and beyond," said Panapa
He continued, "Thank you to everyone else involved in the scholarship process. I am so grateful for the opportunity."