Victoria's live transcription service is a game-changer for deaf MP
Green MP Mojo Mathers says she felt a responsibility when she entered politics, to prove to the Deaf community that a deaf person could be an effective politician.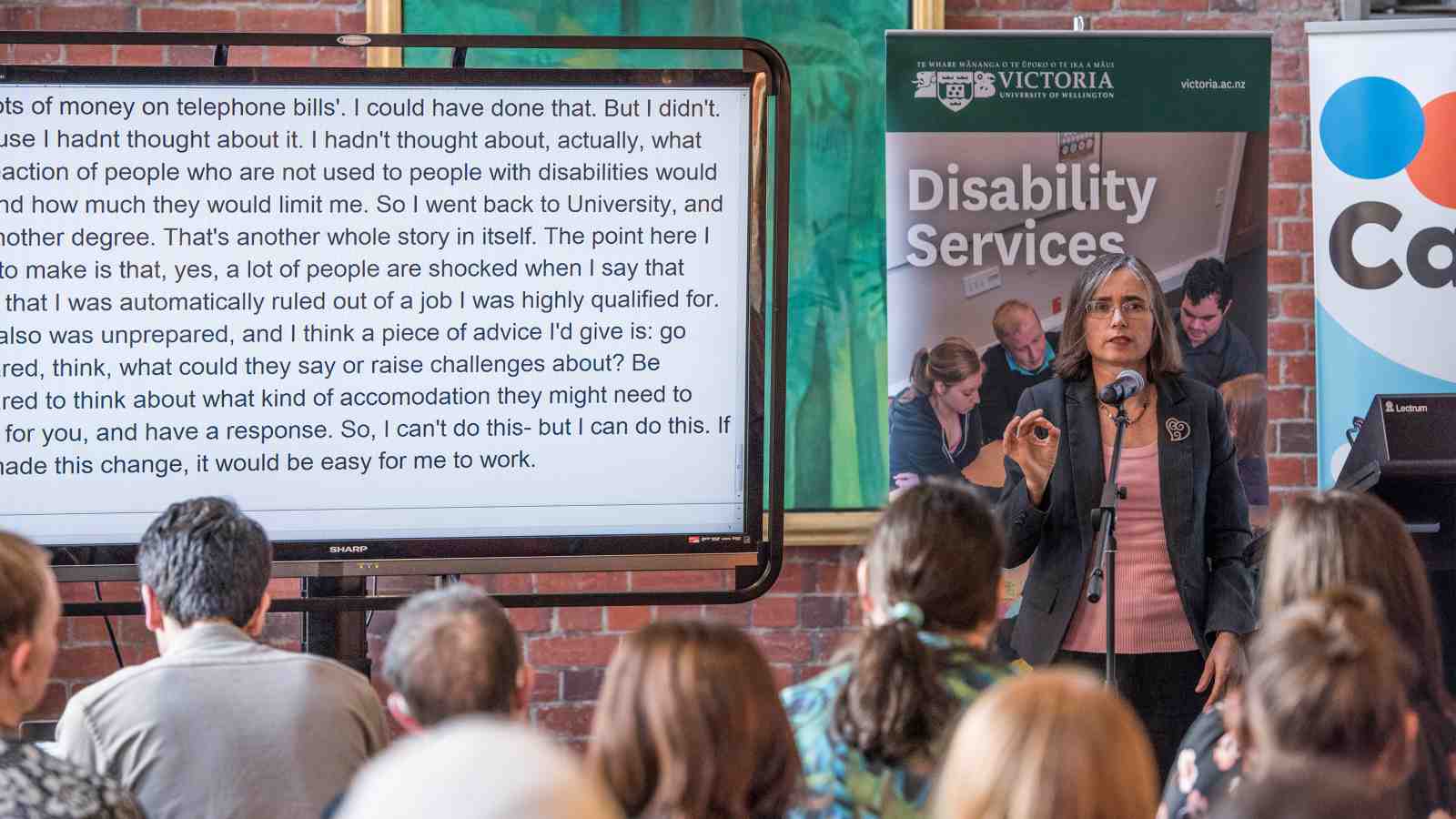 MP Mojo Mathers speaks to students with disabilities at Victoria University on strategies for influencing employers to be inclusive.
That is no easy feat given about 90 percent of her workload is meetings where there are a lot of people talking.
But when she was elected an MP in 2011, she contacted Victoria University's Disability's Services to see what services they had that would help her follow and fully engage in the important conversations around her.
Born with only residual hearing, Mojo has had a lifetime relying on lip reading and note-takers who provide summaries.
Disability Services provided Mojo with its electronic live transcription service, which since 2004, has assisted the deaf students at Victoria who don't use sign language interpreters.
The transcriber sits in the same room as Mojo and types the conversation onto their lap top. The text automatically appears on Mojo's lap top screen, enabling her to follow the conversation in real time.
Mojo says politics has a lot of special terminology and abbreviations. But the transcribers use especially designed software that is pre-loaded with abbreviations for improved efficiency and accuracy. She is also able to send instant messages to the transcribers for clarification.
Mojo says the service has proved "absolutely essential" to her role. "Without the transcribers, I would desperately try to lip read. I would have to keep asking people to speak clearly or move their hands away from their mouths when they're talking. I was on such high alert all of the time, and I'd be exhausted by the end of the day.
"I'd get by that way, on a day-to-day basis, but it wasn't sustainable. And I was never able to follow the full conversation.
"The transcribers have been fantastic, especially around the unpredictability of my schedule. It can change at the last minute, but they've always done their best."
Disability Services manager Rachel Anderson-Smith says the transcribers have to have the ability to understand complex subject matter and are provided with thorough training to ensure they can type quickly and accurately under pressure.
She says the service is a "huge benefit" for Victoria's deaf students.
"Electronic live transcription enables deaf students to fully participate in lectures. Like Mojo, they don't have to worry about missing information. And because the service is live, they are able to ask questions and engage in real time, just like other students.
Disability Services has a range of other support services available to the 1200-plus students at Victoria who have a disability.