Wearable technology on show
Eye-popping projects from Victoria University of Wellington design students lit up the stage during the School of Design's annual wearable technology show.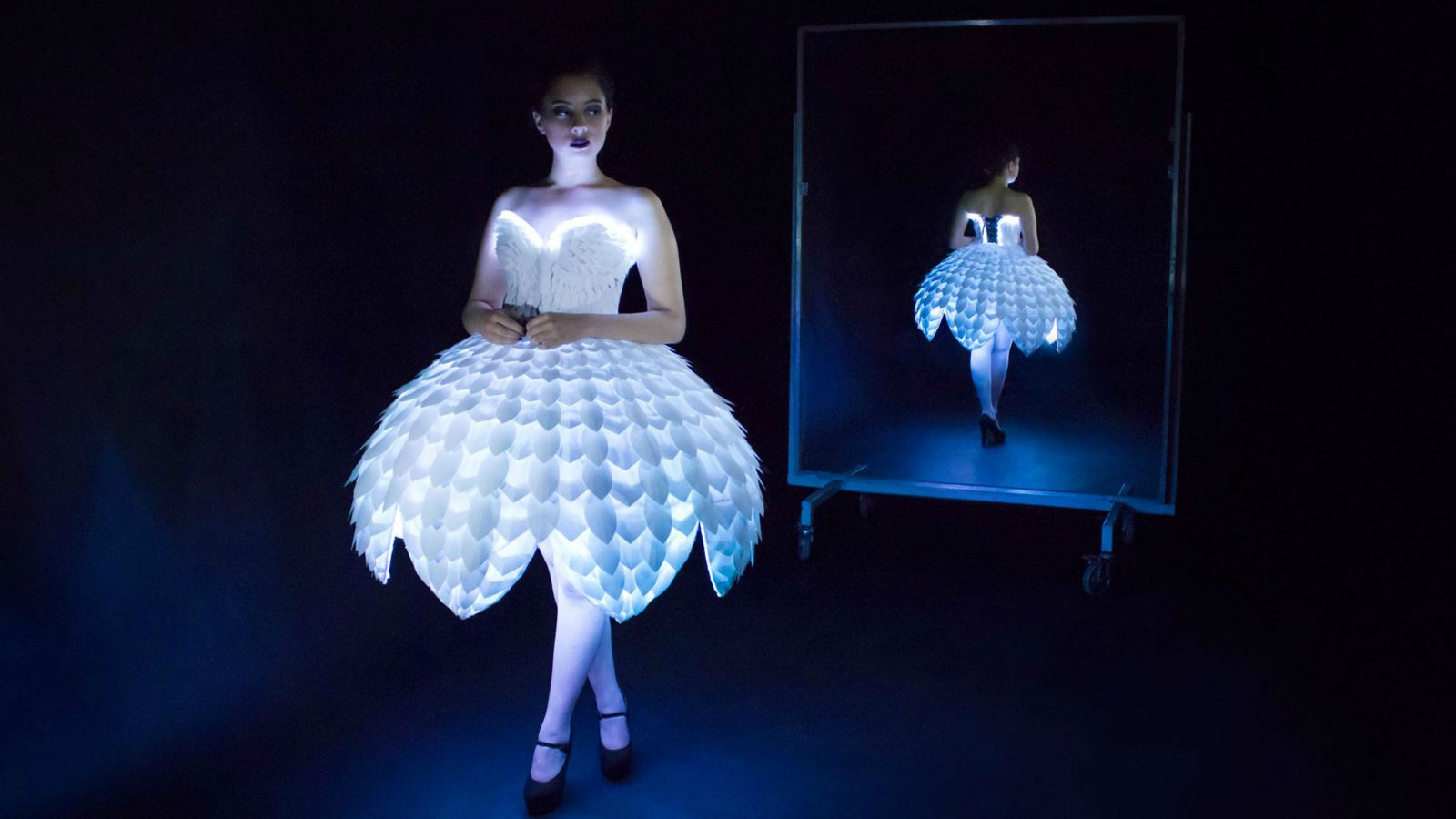 Ester by Flavia Rose Wilson and Ashleigh-Jean King
The event showcased a runway of work from students taking the School's wearable technology course, led by senior lecturer Anne Niemetz.
One of the standout garments was Ester—winner of the People's Choice Award in the 2016 World of Wearable Art Awards (WOW).
Designed by Victoria alumnae Flavia Wilson and Ashleigh-Jean King, Ester is the first entry to win a major WOW award for the University.
Ester is sculpted from cane, creating a light but durable skeleton. It features 340 LEDs and 1,000 hand cut paper petals, and took three months to make.
Flavia and Ashleigh-Jean met while studying at Victoria.
"We both took the wearable technology course at the School of Design in 2014. We made our first wearable technology garment with our friend Bianca Taylor, under Anne's guidance," says Flavia.
"This set us in motion to take the same materials, methods and ideas to make a WOW entry. I've always been captivated by things that light up, and it excites me to make garments that come to life using light."
The two designers both went onto tutor the course at Victoria, and work for Weta Workshop.
"I love teaching, and I love seeing my students embark on their own journeys in wearable technology. The work they've come up with has blown me away," says Flavia.
The course examines the many categories of wearable technology, as well as closely related fields, such as wearable computing, techno fashion, electronic textiles, intelligent jewellery and smart clothes.
Anne Niemetz says this year's students worked very hard and their garments, once again, exceeded expectations.
Other notable entries included Through the Looking-Glass (using infinity mirrors), Glitch (illuminated), Dryad (motorised) and Enlighten (necklace lights up as the wearer sings).
A story about Ester will be featured by Arduino, a software and hardware manufacturer, from 11 November.