Technology takes centre stage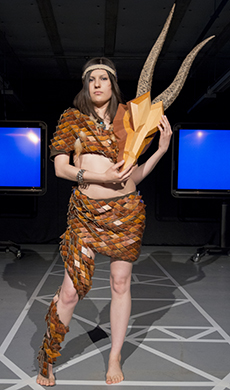 luminated jewellery, bizarre bras, and interactive full-body costumes were among the 24 projects on display in this year's wearable technology show at Victoria University of Wellington's School of Design.
The event showcased projects of students taking the School's wearable technology course, led by senior lecturer Anne Niemetz, and attracted an audience of over 150 people. Among the guests were World of Wearable Art competition director Heather Palmer and competition co-ordinator Rachel Keir-Smith.
"Having a public showing of the course work is great motivation for the students and a lot of fun for everyone," says Anne, who established the show in 2013.
Two standout garments were For Fear of Being Hunted and Agnisk—finalists in the 2015 World of Wearable Art Awards (WOW).
Both garments originated as projects in the 2014 wearable technology course and were transformed into WOW-worthy garments using skills their creators learnt from Anne and the course tutors.
For Fear of Being Hunted, designed by students Zak Gatara, Samantha Dowling, and Molly Parker, is a dress made up of hexagonal panels, the centres of which are pushed out as motor-powered pistons roll up underneath them.
"The form of the garment is derived from the tessellation of geometry commonly seen in natural architectural forms, such as beehives," says Zak.
"Prior to taking the wearable technology course we had primarily worked with digital technology, but the course enabled us to grow our skills in combining digital and physical technologies," says Molly.
Agnisk, designed by Marina Voronova, Luca Ribeiro, and Joe Dixon, connects the past and present together by combining traditional wooden handcraft techniques with electronics.
The garment is centred on a serpent headpiece lit up by LED lights which resemble candlelight. The headpiece rotates with the aid of lateral pulleys which also activate an internal light switch.
Luca says Anne's wearable technology course heavily influenced the group's decision to enter WOW.
"Anne's passion for wearable technology is contagious. With the skills we learnt from her and the course tutors, it was inevitable that we would develop our course project into a garment for WOW," says Luca.
Other stand-out projects in the show were Chameleon by Bernice d'Anjou—an adornment worn on the wrist which changes colour to suit its surroundings using a colour detection sensor; Rove by Maxence Belay—a watch, compass and flashlight combined; and Burlapagon by William Barber, Rachel Mataira, and James Struthers—a costume situated around the illuminated headpiece which represents a deep sea diver who's been infected with a mystery disease from the depths.