Big award for slender design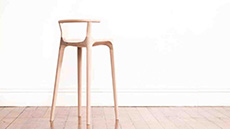 Victoria University of Wellington Master of Design Innovation student, Oscar Pipson, has won a Student Notable Award in the 2015 Core77 Design Awards.
Competing in the Furniture and Lighting category, the award is for the Elka Stool, a design made of European beech and inspired by the geometries of deer antler.
The project brief required an innovative design that fully exploits the opportunities of computer-aided manufacturing.
Oscar's objective was to create a stool that was strong enough to dispense with horizontal supports, yet tall, slender and graceful.
The strength is achieved by using multi-axis machining on the wood to create an effect which is similar to the strengthening of concrete.
The wood was also treated to make it look as natural as possible.
The overall objective was to create a harmonious balance between machining and digital fabrication without taking away from the craftsmanship.
According to Core77, Oscar's project was selected for its outstanding execution, insight, creativity and intent, and was chosen among hundreds of entries.
The organisers also saw the design as indicative of the high standards and direction of Victoria University's School of Design.
Core77 is an online magazine dedicated to industrial design globally, serving designers of all levels through publishing, events, forums, and collaboration.
Currently pursuing a Master's degree, Oscar has already graduated from Victoria University with a Bachelor of Commerce (Management) and a Bachelor of Design Innovation (Industrial Design).