Lights, camera, action for opening of the Victoria University of Wellington Miramar Creative Centre
Leading figures from Wellington's film world and other creative industries will help celebrate the opening of Victoria University of Wellington's new high-tech teaching facility in the heart of the capital's movie-making district.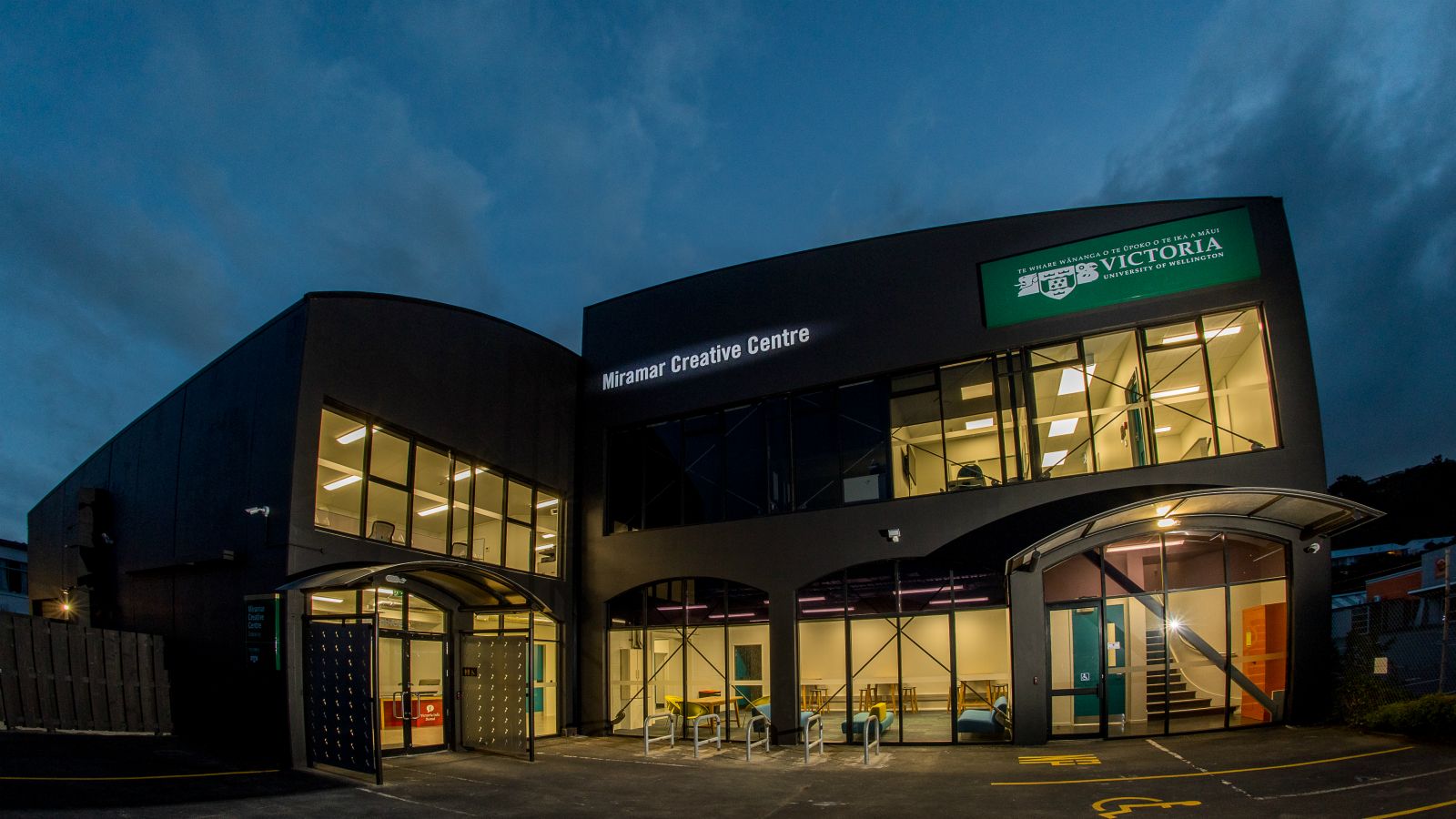 Miramar Creative Centre
The Victoria University of Wellington Miramar Creative Centre at 133 Park Road is the result of a collaboration between Victoria, Miramar Creative Ltd—whose Co-Director is Weta companies co-founder Jamie Selkirk—Park Road Post Production, Weta Workshop and Weta Digital.
The Centre is a rare example of students and teaching staff embedded in a thriving film, game and multimedia design industry. It will provide an elite education offering a full spectrum of film, animation, game and other multimedia career routes, including production, post-production, visual effects and music scoring.
The Victoria University of Wellington Miramar Creative Centre is in a building that has undergone a purpose-designed refit and features top-of-the-range facilities. These include industry-standard studio spaces, recording and editing suites, computer labs and a workshop. It is equipped with green screen, high-end camera gear, motion-capture technology, music recording facilities and the same software used by film production companies around the world.
Tertiary Education, Skills and Employment Minister the Hon Paul Goldsmith MP will officially open the Centre.
Students will be at the launch along with guests as they experience some of the Centre's advanced technology.
Students from Victoria's Master of Design Technology programme have been studying at the Centre since last month, with students from the film and music streams of the University's Master of Fine Arts (Creative Practice) set to join them in Trimester 3 in November.
"The Victoria University of Wellington Miramar Creative Centre offers the opportunity to study in the heart of Wellington's film, game and multimedia design industry," says Victoria Vice-Chancellor Professor Grant Guilford.
"And thanks to our relationship with Miramar Creative Ltd and the Weta group of companies, our students will receive teaching direct from world-leading practitioners in their craft."
Passing on their experience to the next generation in such a meaningful way is something people in the Wellington film industry have long wanted to do, says Mr Selkirk.
Welcoming Victoria to the Miramar community, Miramar Creative Ltd Co-Director Kristy Grant says the collaboration represents an important addition to Wellington's ever-growing creative economy.