Learning from the best with the Master of Design Technology
Victoria University's new Master of Design Technology will provide students with a unique opportunity to study with some of the best minds and practitioners in the creative technology industry.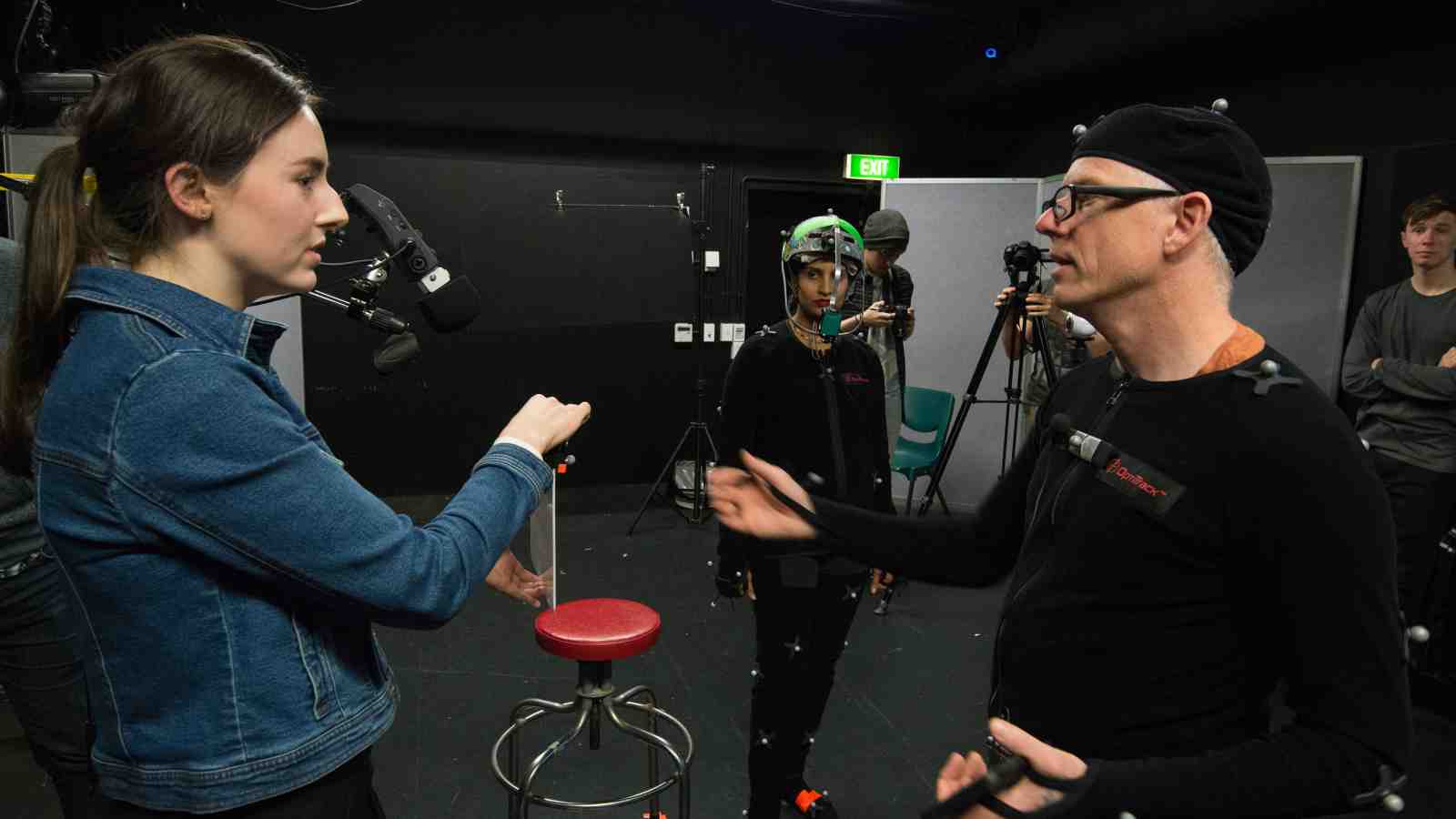 School of Design staff trialing the Motion Capture equipment.
The 12-month Master's programme, delivered by Victoria's School of Design and offered through the Wellington ICT Graduate School, will teach students the professional skills needed to work in highly technical design professions such as game design, visual effects, exhibition design and multimedia design.
Associate Professor Doug Easterly, Head of Victoria's School of Design, says students will be taught by world leaders in their field, including Weta Digital's Head of Special Effects Areito Echevarria, Creatures Technical Director Joe Weidenbach and Victoria's Raqi Syed, a former Senior Technical Director with Weta Digital.
"We've had fantastic support from Weta Digital, and others in the industry. We're proud to have staff teaching our courses this year who have over 40 combined years of industry experience including tenured stints at Disney, Weta Digital and DreamWorks, working on productions such as The Lord of the Rings, The Hobbit, Avatar, Planet of the Apes and The Jungle Book," says Associate Professor Easterly.
Associate Professor Easterly says an added advantage for students is that they will be based in the heart of Wellington's film sector, at Victoria's new state-of-the-art Miramar Creative Centre.
"The new centre will be high-tech, with green screens, motion capture studios and new computer labs equipped with the same software that is being used by film production companies around the world."
Core courses in the programme will cover creative coding for digital practice, mātauranga design and design professional practise, and students can choose elective courses in subjects including creature rigging and simulation, lighting and rendering and character animation.
In the final trimester of the programme, students will undertake a research practicum—a supervised, studio-based research project, which may include a placement in the visual effects industry.
The qualification is open to students with a relevant undergraduate degree, or industry experience. Students interested in applying for the course will need to submit a portfolio that demonstrates creativity and digital proficiency. For the inaugural year of the programme, the School of Design is offering a scholarship covering courses fees for one student, awarded on the strength of their portfolio.