Tales from the Forbidden City
Date: Sunday, 9 March, 6.30 pm
Venue: Michael Fowler Centre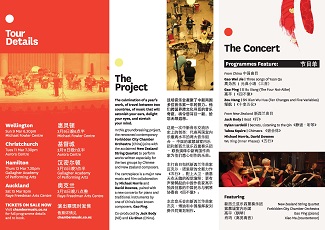 Tales from the Forbidden City featuring New Zealand String Quartet (New Zealand) and Forbidden City Chamber Orchestra (China).
In this groundbreaking project, the most renowned contemporary ensemble in China joins with the acclaimed New Zealand String Quartet to perform works written especially for the two groups by Chinese and New Zealand composers.
The centerpiece is a major new music and film collaboration by Michael Norris and David Downes, paired with a new concerto for piano and traditional instruments by one of China's best known composers, Gao Ping. Tales from the Forbidden City is the culmination of a year's work—it will astonish your ears, delight your eyes and stretch your mind.
This is a 2014 New Zealand Festival concert supported by the Ministry of Culture of China, the China Conservatory of Music and the Confucius Institute at Victoria University of Wellington.