NZSM Te Kōkī student performance marks arrival of new Chinese musical instruments
Five music students and a musician friend delighted staff and guests of the New Zealand School of Music—Te Kōkī and the Confucius Institute at a lunchtime performance on 30 July.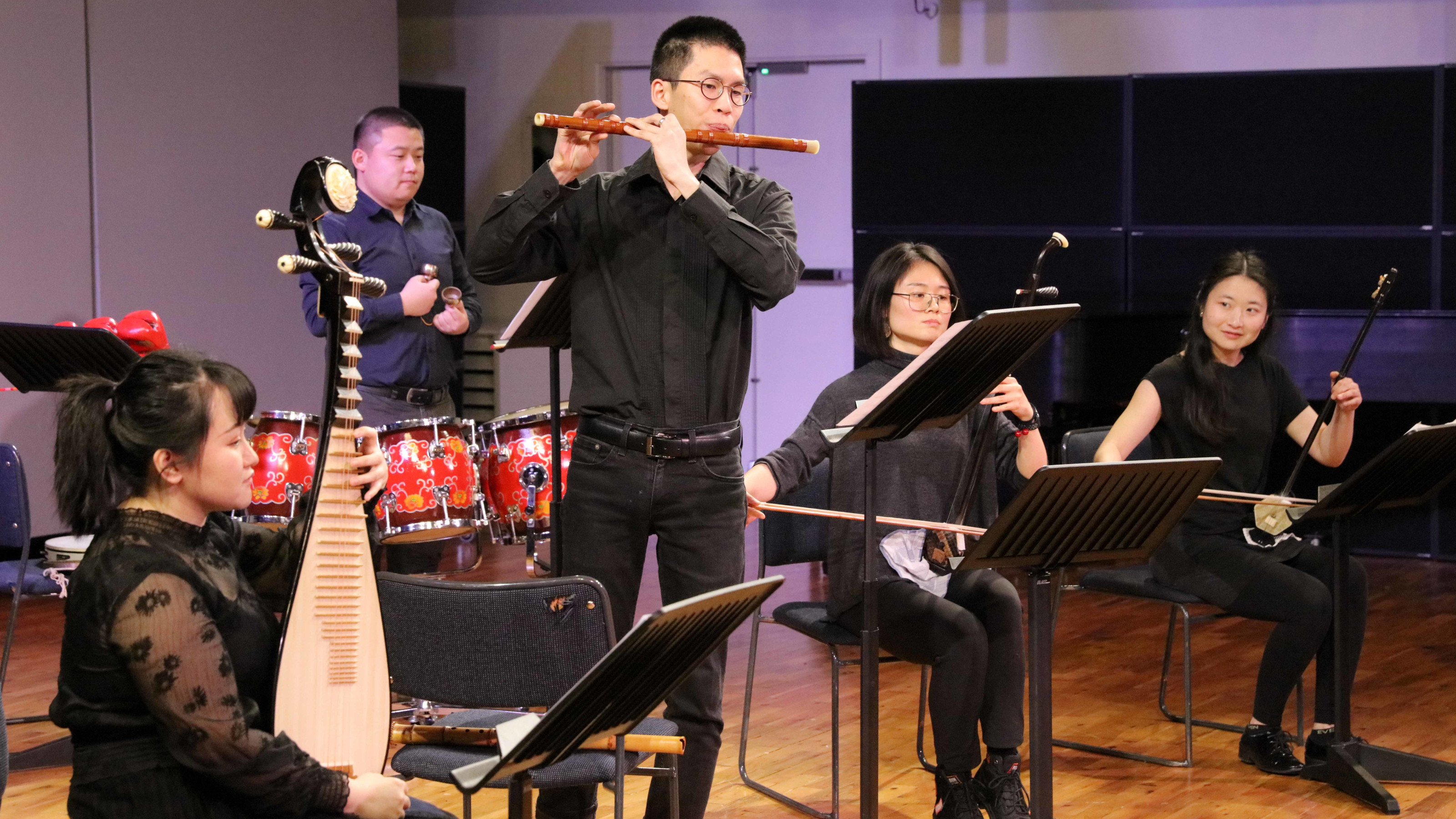 The group, led by New Zealand School of Music (NZSM) PhD student Bo Yang, performed two pieces by famous Chinese composers Gu Guanren and Chenglong Zhou on traditional Chinese musical instruments. This rare chance to hear and see such an ensemble was a fitting way to welcome a new shipment of beautiful Chinese instruments purchased by the Confucius Institute (CI) for the collection housed in the Asia-Pacific Music Studio at the NZSM. The Chinese instrument collection, an important component of our enviable Asia-Pacific resources, was started in 2016 and now holds over 25 instruments available for use by staff and students, and also keenly solicited nationally by the wider music-making community.
Tony Browne, Chair of the Confucius Institute, recalled the long association between the CI and NZSM dating back to 2010 with collaborations inspired by composer-ethnomusicologist Jack Body (1944-2015) and then CI Director Dr Hui Luo of the School of Languages and Cultures. Over the years the Confucius Institute has brought a range of high quality Chinese performers and composers to New Zealand, including the Forbidden City Chamber Orchestra and famous pipa player Wu Man, who performed with the New Zealand String Quartet. More recently our 'China Crossing' events have brought Dr Shen Nalin, Professor in Composition at the Zhejiang Conservatory of Music, along with stellar Zhejiang staff, to NZSM for performances and masterclasses. A former PhD student at NZSM, Prof. Nalin and Michael Norris, Composition Programme Director, chose the new instruments that best offset and extend our collection.
NZSM Director Sally Jane Norman announced the launch of the joint CI/NZSM 2021 China Crossing Composition Competition which will invite NZSM students to compose for instruments from the Chinese collection. Sally Jane noted that this initiative will "allow composers and performers to demonstrate the unique contributions these resources can make to our musical world, expanding our abilities to explore and tune to sonic materials from different cultures".
The University community and its friends can look forward to hearing more of these instruments in the future.