Professor the Hon Bob Carr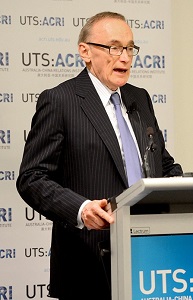 The honourable Bob Carr is Professor in International Relations at the University of Technology, Sydney (UTS). He is the Director of the Australia-China Relations Institute (ACRI), the only Australian think tank devoted to illuminating the Australia-China relationship.
Professor Carr is a former Foreign Minister of Australia (2012-2013). He is also the longest continuously serving Premier in New South Wales history (1995-2005).
He received his Honours degree in History from the University of New South Wales.
He is an Honorary Professor at Beijing Foreign Studies University. He is recipient of the RSIS Distinguished Visiting Fellowship from Nanyang Technological University and the Fulbright Distinguished Fellow Award Scholarship. He has served as Honorary Scholar of the Australian American Leadership Dialogue.
Professor Carr is an active public speaker. He has been invited to give scholarly presentations at many universities including Nanyang Technological University, Beijing Foreign Studies University, Shanghai University, Shanghai Jiaotong University.
He has been frequently interviewed by international media. His opinion pieces are published in the Australian Financial Review, The Australian, Sydney Morning Herald and Nikkei Asian Review.
He is the author of Thoughtlines (Viking, 2002) , What Australia Means to Me (Penguin, 2003) , My Reading Life (Penguin, 2008) and Diary of a Foreign Minister (NewSouth Publishing, 2014).
Professor Carr's research focuses on international relations, foreign policy, Chinese politics and economics, national defence and security.