Professor Huang Meibo
Biography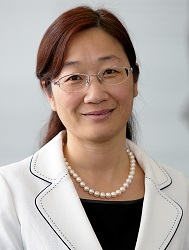 Huang Meibo, Ph.D of Economics, she has been associated with the Economics School, Xiamen University since 1991. She is now the economics professor and the director of China Institute for International Development, and the executive director of World Economy Research Center of Xiamen University. She is a deputy Secretary General of China Society of World Economics. She is also a member in UNCTAD "Promoting Responsible Sovereign Lending and Borrowing" expert group. Ms Huang Meibo was one of the ten provincial outstanding young social science experts in 2009. And she has received Provincial and municipal Social Science Award several times.
Ms Huang Meibo was a visiting scholar in Economics Department of Cornell University (USA) from Jan.1999 to Feb.2000, and a academic visitor in Global Economic Governance program in Oxford University (UK) from Oct.2006 to Sept.2007. From Sept.2010 to Feb. 2011 she joined the Global South Scholar in Residence Program and did her research in the Graduate Institute of International and Development Studies in Geneva. From March to August 2013, She was a Senior Fellow in Centre for Global Cooperation Research, University of Duisburg-Essen, Germany.
Ms Huang Meibo's current research focuses on international monetary cooperation, macroeconomic policy coordination, regional economic integration and international development assistance. She is author, coauthor, editor, or coeditor of 15 books or textbooks on international economic issues. She has also published more than 100 papers in the above field.
Contact
E-mail: mbh841123@163.com, mbhuang@xmu.edu.cn