Sustainable tourism in the Amazon
For the third week of their South American trip, students visited the Amazon and learnt how local communities support themselves through sustainable tourism as well as about the environmental challenges the Amazon faces.
Group 1: Janice Cheng, Mari-Clare McLaughlin, Madeline Thompson, Hana Wong
This week we began our programme in the Amazon. We flew four hours from Sao Paulo to Manaus, the capital of the State of Amazonas. We visited the office of Fundação Amazonas Sustentável (FAS, or Amazonas Sustainable Foundation). FAS is an NGO that has been operating for 12 years as a catalyst for public policy change by assisting in the development of health, education and sustainable economic channels for the communities in the Amazon. Our visit to Museu da Amazonia (MUSA) gave us an introduction to the biodiversity in the Amazon. We enjoyed a 1.5 hour speed boat journey on the Rio Negro to the community of Tumbira, our home for the next 11 days with Raquel and Laura from Lab Amazonia leading our programme.
Our experience in Tumbira has been rich with biodiversity and environmental immersion. Our lecture with Ornithologist Mario Cohn-Haft from National Institute of Amazon Research (INPA) taught us that the Amazon encompasses diversity and not abundance, providing the 1,300 documented bird species as an example of this. This sentiment was also reflected in a subsequent talk from Rita, an INPA professor, and our biodiversity trek with INPA PhD student Dayse. We walked a closely monitored trail for mammalian activity and despite failing to see any mammals, we were made aware of different animals in the Amazon and their importance in contributing to a thriving ecosystem. Our experienced local guides on the night cruise skilfully identified different animals based on the appearance of their eyes in the dark. We saw pepper toads, skunks, alligators and bats. Sleeping outside in hammocks, each morning we wake at sunrise to a cacophony of birds. While swimming in the river we have seen pink dolphins and at night we see bats. These special experiences in the Amazon make us realise the need for preservation of this biodiversity and the environment as the home of thousands of communities and indigenous tribes.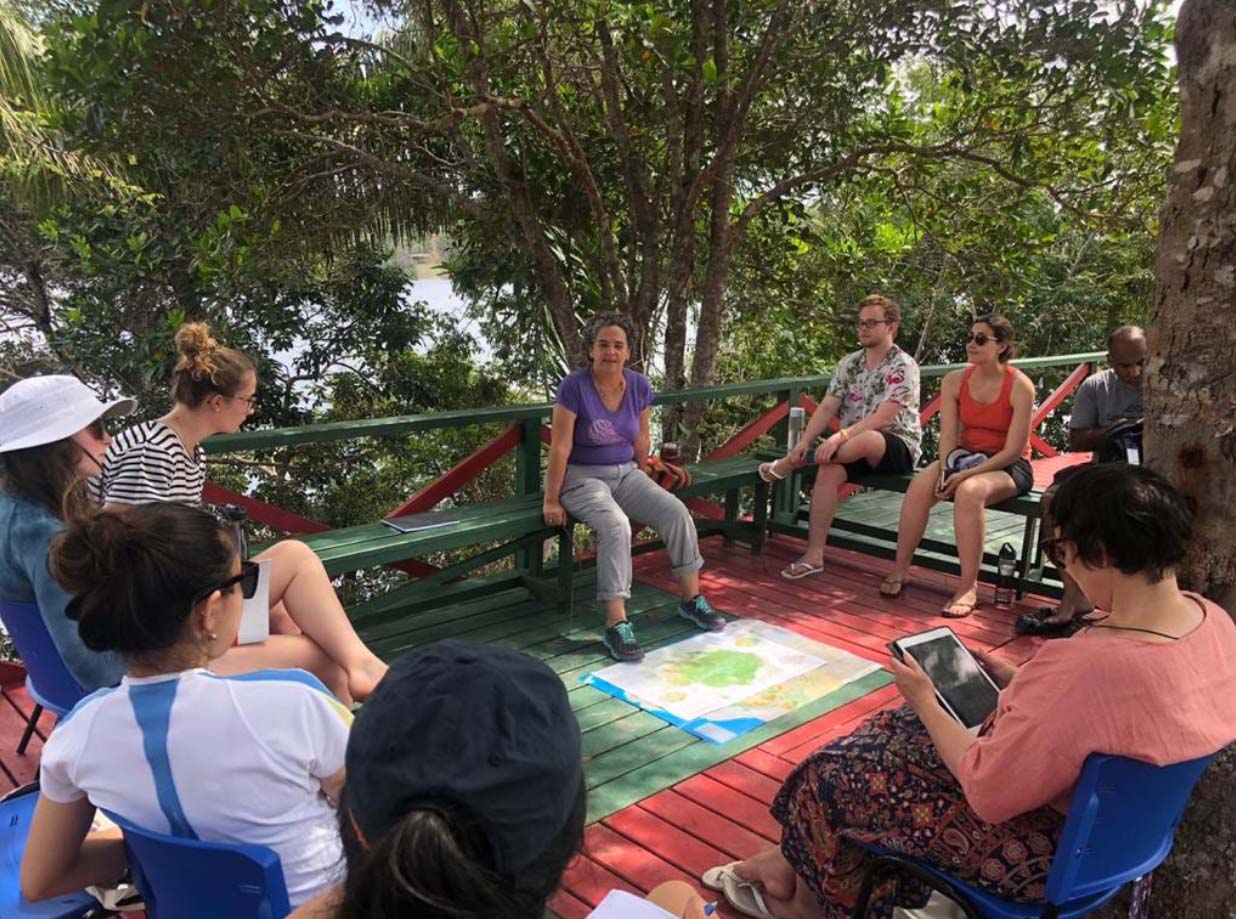 Food is a universal language, and this is no exception to the community in Tumbira. We were fortunate to have a couple from Tumbira show us the process of making farinha (manioc flour), which is a staple of meals in Brazil. It was fascinating to learn and partake in the process from harvesting manioc (tapioca root vegetable), safe preparation of the plant, and its transformation from a poisonous plant into edible crunchy grains that get sprinkled over their meals, especially fish. Our afternoon was spent gathering and preparing Amazonian fruits and Brazil nuts for our afternoon tea. It was incredible to watch seven-year-old Sophia take us through her grandmother's garden, and scale mango, guava and inga trees with agility to select perfectly ripe fruits. We have a new appreciation for Brazil nuts—the amount of precision required to cut the shell off with a machete is impressive. As we sat back to savour the fruits of our labour, we were struck by the knowledge and diligence of the locals, including their children, at preparing food.
We finished our first week here learning about Tumbira's involvement with tourism and its impact. To begin our day, Roberto—the community's problem-solver— led a trail to a forest classroom. We learnt about the differences between primary and secondary forests and how logging contributes to this. As a leader in community-based tourism, Roberto gladly receives quality visitors over quantity, preferring those who come here with an interest in learning about sustainability and who respect the community. Bruno, community tourism leader, also gave us insight into the challenges and opportunities associated with developing community-based tourism within the Amazon, and how Tumbira manages this. We were extremely fortunate to visit a beautiful white sand bank in the river to spend our afternoon. We saw evidence of city-dwellers exploiting this natural paradise by littering and lighting fires, which provoked us to think about the challenges to sustainable tourism and ensure we leave a positive impact on the places we visit.
It has been encouraging to see that what we have learnt in Sao Paulo is being echoed here 'on the ground' in the Amazon. Poor enforcement of public policy, and the lack of support for environmental sustainability initiatives and infrastructure from the government have been repeating themes.
We can't believe we only have one more week of our Amazonian immersion programme. Despite our mosquito bites, heat rash, trial and error with sleeping in a hammock and the unrelenting 90% humidity, spirits are high going into week four!
Group 2: Jacob Barrett, Kirsten Boardman, Shah Kabir, Adele Lonergan, Rochelle Tait, Shannon Toe
On Tuesday we arrived in Tumbira and were given a general overview of the community. The community has been part of the Rio Negro Sustainable Development Reserve since 2008 and is situated in the parse of protected land where there are several communities. The journey from Manaus to Tumbira was approximately 1.5 hours via a chartered boat, but public boats generally take five hours. Amazonas Sustainable Foundation (FAS) has helped create significant infrastructure in Tumbira including a school and accommodation, which we will be staying in for ten nights. The community is also supplied power through national grid cabling—however, a diesel generator is also used as power outages are relatively common.
On Wednesday, we had lectures about the basics of the Amazon Rainforest. Ornithologist, Mario Cohn-Haft, discussed the idea of abundance versus diversity and how this impacts ecosystem sustainability. We then had a conversation with biologist, Rita Mesquita, about human interaction with the forest and how the desire for economic gain adds tension. After sunset we split into canoes and did a river cruise to observe the stillness and sounds of our surroundings. It was a surreal experience that finished the day on a high.
Biodiversity was Thursday's topic and began with a morning trek through the Amazon forest. We split into small groups to reduce noise and increase our chances of seeing wildlife, but unfortunately, we only saw insects. This made sense after Mario's lecture yesterday where he noted diversity does not equal abundance. Despite not seeing any wildlife during our trek, we heard toucans, smelt armadillo and howler monkey scents, and saw puma and armadillo tracks. This helped us imagine what the forest is like when humans are not around. To further our Amazon biodiversity knowledge, we participated in a workshop where we used seeds from the forest to make jewellery. This showed us how resourceful the locals are.
On Friday we walked around the community and met more of the local people. It was evident that the presence of FAS in the community has had a positive impact on education and creating other sustainable avenues of work, which ultimately improves the locals' lives. For example, the wood used in the workshop is sustainably harvested by cutting selected trees in a wider area, allowing light in and saplings to grow, a family making crafts from bacaba and seeds from the acai have reached a wider market, and a local teacher facilitates during online classes broadcast from Manaus, meaning that education is providing an avenue for people to improve their lives.
One of the most revealing days we had this week was on Saturday, or as we knew it: food day. In the morning we were amazed by the process of creating farinha from manioc root, which takes three days and can produce enough farinha to last two months! In the afternoon we had fun preparing a merenda (afternoon tea) from local ingredients like brazil nuts, mangoes, tucuma and cupuacu along with tapioca pancakes and locally made cheese. It gave us a much deeper appreciation of how hard communities in the Amazon work to provide for their families.
Sunday's topic was tourism and how Tumbira now utilises community tourism as a sustainable source of income over alternative activities such as logging, which they relied on previously. One of the locals, Roberto, took us on a walk through a nature trail in the community and shared his knowledge about the forest, telling us stories just as he would with his tour groups. In the afternoon we visited a beautiful white sand beach on the Rio Negro, which is a popular tourism destination in the area. There we learnt about some of the environmental challenges that tourism brings— such as rubbish and overcrowding.
Overall, we found this first week in the Amazon to be incredibly eye-opening and helped us to build on the knowledge we gained in Sao Paulo. Tumbira has offered us all a new perspective that we would not have been able to experience otherwise.