Sustainable business in Brazil
For the second week of their trip to Brazil students explored the growing number of sustainable businesses the country is home to.
Group 1: Janice Cheng, Mari-Clare McLaughlin, Madeline Thompson, Hana Wong
It is now the end of the second week of our programme in São Paulo which was thought-provoking and motivating. We were fortunate to be taught by passionate lecturers throughout the week who opened our eyes to not only the various aspects that influence sustainable development in Brazil, but also to how these factors interact in real life. In addition to our learning in the classroom at Insper, we had the opportunity to visit and engage with several businesses and organisations that demonstrated implementation of sustainability strategies in their operations.
Brazil, the fifth largest population in the world, represents a major domestic market for goods and services. Services make up a large proportion of Brazil's GDP (72.8%), followed by industry (21%) and agriculture (6.2%). This composition was unexpected. The shift from reliance on primary industries to a service industry is consistent with a nation that is becoming a developed nation. Professor Monica Pinhanez (Insper) emphasised that economic and sustainable environmental development need to go hand-in-hand. Democracy, development and government are three cogs in the wheel of sustainable development of a nation. However, culture and institutions play important roles as the oil that allow these cogs to rotate, so that the nation can achieve its sustainable development aspirations. Synchronised efforts at creating high quality education, addressing inequity, and health and infrastructure development will be crucial for Brazil to achieve sustainability.
With Professor Priscilla Claro we explored the foundations of corporate social responsibility and stakeholder value. As business students we were interested in how a focus on sustainability is implemented in companies. What we learned is that businesses can be founded on the idea of sustainability, like VerBem who give people the gift of sight with affordable customised glasses, or incorporate sustainability in their existing operations, such as Ambev a Brazilian beverage giant. Regardless of their approach, businesses must be economically sustainable to allow cultural and environmental sustainability to be reached.
Professor Luiz Veira from Insper gave us a lecture about the challenges and opportunities in Brazil and presented some insightful topics. He introduced us to the idea of Brazil's demographic bonus, where there are more people entering the workforce than people leaving it. In theory this should boost the economy, however due to Brazil's poor investment into quality education Brazil has been unable to reap the benefits of this phenomenon. We were also presented with the juxtaposition Brazil faces; despite the Amazon basin holding 20% of the world's fresh water, access to water and sanitation remains a problem. The distribution and lack of water infrastructure appears to contribute to these issues and is dependent on private investors rather than the Brazilian government.
Despite these shortcomings, action is being taken to improve sustainability and provide job opportunities to the population. Our business visits this week included YouGreen, an ethical waste management cooperative, and B Corp, an international sustainability certification business.
We were privileged to be hosted by Natura & Co., the fourth largest cosmetics company in the world, who was the first Brazilian company to be awarded the B Corp certification. Natura are leaders in partnering with Amazonian communities to develop products based on their know-how of Amazonian ingredients and their uses.
When we visited Boomera we learned about their sustainability-based business model. They offer a holistic service to companies looking to create a circular economy through reverse logistics. Seeing such a strong sustainability focus in action was inspiring. For a sachet juice company they set up collection centres in schools and collected thousands of sachets which they transformed into recorders. They also discovered a way to recycle used diapers and transform them into chairs for children to use.
Our main takeaway from our second week and conclusion to this half of the programme was that the economic, cultural, political, social, and environmental factors of sustainable development do not act alone. In the words of Professor Priscila Claro, "sustainability is a path, not a result". Associate Professor Arun Elias' concluding lecture about 'systems thinking' helped us to understand that sustainable development is a network of interconnected aspects that rely on one another for growth. We were able to see first-hand how sustainability strategies and frameworks apply in an organisational context – this showed us that leadership on sustainability can come from all levels of society. Looking forward, we are excited to begin our Amazon immersion part of the programme to gain further perspective on the patchwork of sustainable development in Brazil.
Group 2: Jacob Barrett, Kirsten Boardman, Shah Kabir, Adele Lonergan, Rochelle Tait, Shannon Toe
Our second and final week in São Paulo has been amazing. The lectures delved into the core of sustainable development, focusing on the economy of Brazil, challenges and opportunities of doing business in Brazil, and enterprise sustainability as a strategy – all tied together with a final lecture on systems thinking. The most exciting part of the week was visiting Brazilian businesses; we were amazed by the ingenuity and forward thinking on display at Boomera, Sistema B, YouGreen and Natura. From these visits we gained a deeper understanding of what sustainable development is and how it can dramatically improve how a business impacts the society, country and world it is a part of.
Throughout the week we attended lectures at Insper. Prof. Monica assisted our learning about the economics and products of Brazil. Prof. Luiz took us on a journey through the economic opportunities and challenges of Brazil and how the geographic diversity could be harnessed to boost the market further. Finally, Prof. Priscila enlightened us on how the bigger companies such as AmBev and Natura are taking the lead in sustainable business practices. These initiatives are proof that a sustainable mindset can lead to efficiency and economic benefits as well as help the community.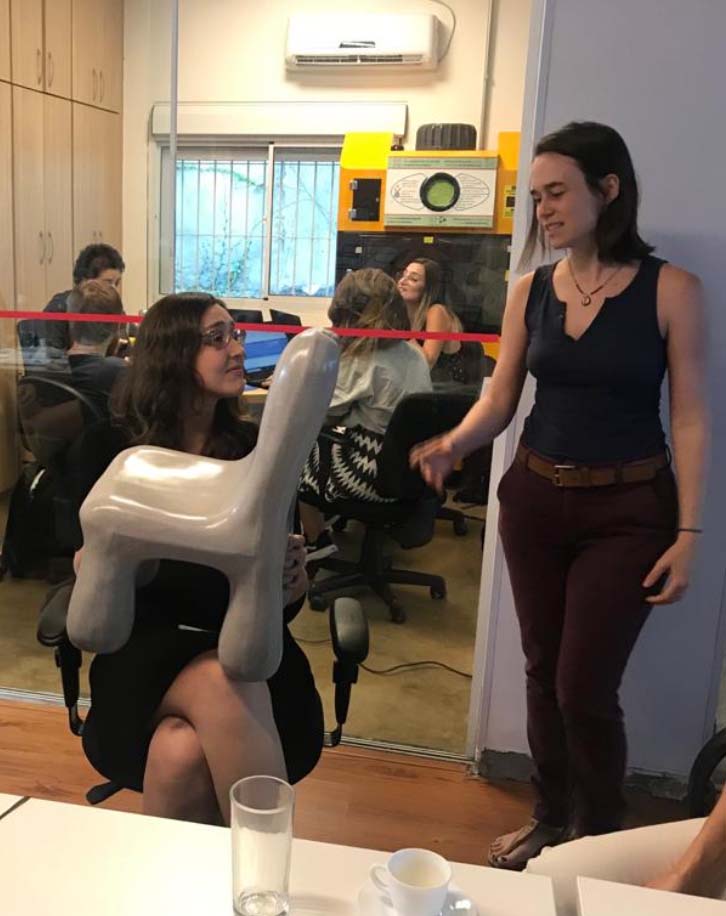 One of our business visits was to Boomera, a company helping businesses become part of the circular economy by offering reverse logistics, recycling and innovate recycled materials for their clients. Boomera workers, Bea and Steph, talked us through the innovation process and provided multiple examples of the great work they do including toddlers' chairs made of disposable diapers and musical instruments made of old cordial packaging. Boomera were a great introduction to the circular economy and how any business can improve their product lifecycles.
Another interesting sustainability-based company we visited was Sistema B. They provide B Corp certifications and rate businesses based on their sustainability practices and impacts. If a business scores at least 80/200 then they can gain B Corp certification. It was enlightening to hear about all the Brazilian businesses who have achieved the certification thus far, including businesses we had discussed in our Insper classes such as Natura.
YouGreen, a B Corp we visited, are an excellent example of an environmentally and socially sustainable business, as they recycle and repurpose commercial waste, but also provide a supportive work environment for employees through diversity programmes. YouGreen employ refugees, disadvantaged Brazilians and women to create a more equal workplace which we were pleased to hear. YouGreen also helped us realise if a country as large, diverse, and complex as Brazil can achieve this kind of success, it is likely New Zealand can too.
Thursday was our final day at Insper and was focused on wrapping up our learnings about sustainable development. Two groups presented what we gained from our experiences and the knowledge we will take back to New Zealand. The session was concluded with an introduction to systems thinking with Arun and Flavia, who helped us to combine the different teachings and realise the relevance of their interconnections.
On Friday, we toured the Natura factory and headquarters. Natura is a cosmetics company that uses resources from the Amazon in its products, so it was of particular interest to us considering our trip to the Amazon next week. At Natura there were shared communal spaces, including a cafeteria, gym, hairdresser, masseuse, and a childcare facility for the employees' children, so employees were evidently looked after well.
To summarise, we have recognised three key learnings from our classes and business visits this week:
Innovation is much more prominent in Brazil than we initially thought. In New Zealand, we like to think ourselves as very innovative, so seeing a similar mindset in Brazil was interesting and unexpected to us.
Sustainability is a pathway, not a destination, so innovation is vital for ensuring sustainable business models and targets are continuously met. Without innovation, it's hard for businesses to keep up with everchanging economic, environmental and social demands.
Sustainable development is not a concept that businesses should simply add on to their existing business models; rather, it should be ingrained into their DNA. Due to demands for increased transparency, it is becoming more difficult for businesses to get away with greenwashing.
Having a basic knowledge of Brazil after our first week in Sao Paulo really helped us understand the key topic areas from this week better, as they created the foundation for our sustainable development knowledge and real-life applications. It is nice to see the private sector in Brazil adopting good practices to combat the issues they currently face.