Daniele Abreu e Lima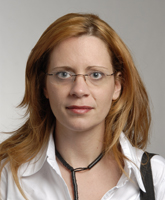 Lecturer
Wellington School of Architecture

VS 3.05B, Te Aro Campus, 139 Vivian Street
Teaching in 2020
as Coordinator and Lecturer
Qualifications
BA (Hons) (ARCH, URB) UFPE/Brazil, MA (Hons) (ARCH, URB) USP/Brazil
Research interests
My current research interests are focused in two main areas, modern architecture and the interdisciplinary approach to architecture design representation.
Modern architecture research is in three main areas:
modernism and national identity in architecture
modernism in peripheral countries
the modern house.
My research in the interdisciplinary approach in architecture design representation has been explored in three separate areas:
cinema and architecture
interior design
thermal and lighting comfort.
Current research projects
I am currently working on research a project that investigates modern architecture in peripheral countries focused on the Brazilian and the New Zealand house. My second project has been exploring cinema and visions of architecture in movies and animes.
Selected publications
Abreu e Lima, D. (2009, April). Art & Form Studio: a Multidisciplinary and Multicultural Experience. Aotearoa New Zealand Association of Art Educators Conference 2009. Dunedin, New Zealand.
Abreu e Lima, D. (2008). Jellicoe Towers. In by J, Gatley. (Ed.) Long live the modern: New Zealand Architecture 1904-1984. (pp. 147). Auckland, New Zealand: Auckland University Press.
Abreu e Lima, D. (2008). Max Rosenfeld, The Home Architect. Proceedings From over-sweet cake to wholemeal bread: the Home & Building years New Zealand Architecture in the 1940s a one day symposium. Ins by McCarthy, C. (Eds). (pp. 14-21). Wellington, New Zealand: Centre for Building Performance Research, Faculty of Architecture and Design.
Abreu e Lima, D. (2008). 50 years of the Brasilia project: when architecture changed the world. Hawaii International Conference on Arts and Humanities. Hawaii International Conference on Arts and Humanities. (pp. 1-9). Honolulu, Hawaii.
Teaching in 2020
as Coordinator and Lecturer