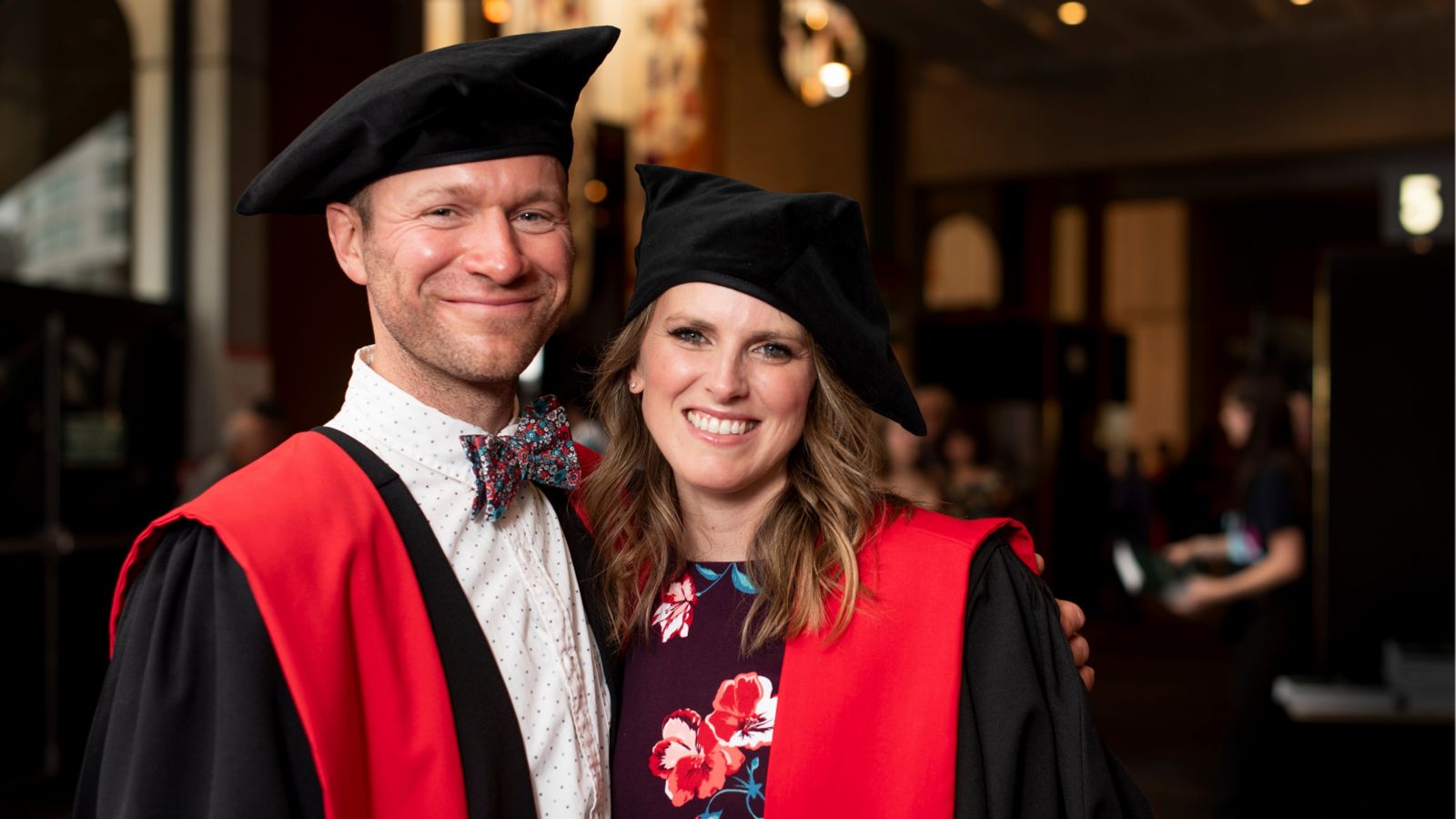 Mutual pride but different rooms, say Te Herenga Waka—Victoria University of Wellington's Dr Katelyn Johnson and Dr Jamey Stutz, who graduated together from the Antarctic Research Centre (ARC) last month.
The couple from the American Midwest left their jobs to achieve their goal of completing PhDs in geology in New Zealand.
"I'm a competitive person," says Katelyn, "so I thought, 'I have to finish before Jamey.' But he beat me to it.But then I got to cross the stage first, so it depends where you want to draw the line."
In his PhD, Jamey used glacial deposits to reconstruct the past extent and behaviour of Antarctica's David Glacier, one of the largest glaciers on Earth.
Originally from a small town in northern Michigan, he is now a research fellow in the ARC.
In her PhD, Katelyn developed two new historical climate records from ice and sediment cores to reconstruct the relationships between atmosphere, ice, and ocean on Antarctica's coastal margins during the past 12,000 years.
From Chicago, she is now on a three-year postdoctoral fellowship at GNS Science's ice-core facility at Gracefield, Lower Hutt.
The couple met at The Ohio State University in 2010. Jamey was studying for a Master's in Antarctic science when Katelyn arrived after completing her Bachelor's in atmospheric science at Texas A&M University.
"I was having a lot of fun," says Jamey, "and I remember Katelyn's first day at uni."
"Yeah, because he gave me the third-degree, asking what my project was about and what cores I was working on. And I was like, 'I've just got here, I don't know.' It was all good, but I didn't have any of those answers."
"Katelyn caught my eye immediately," says Jamey, "and I had to go ask her a thousand questions, so that kind of started a great friendship and we were together there for a few years.
"We both then moved to Texas and took jobs in the energy industry for about five years. The whole time we were thinking, 'We've got to get back to Antarctica and academia', and once that felt comfortable enough Katelyn found a posting for the PhD here that I ultimately took."
Katelyn says that about the same time Jamey interviewed for his PhD at the ARC with Professor Andrew Mackintosh and Associate Professor Kevin Norton, she discovered Associate Professor Robert McKay and Associate Professor Nancy Bertler from the centre were looking for a doctoral student to do research on ice and sediment cores held by the centre.
Jamey says there were "a few sticky months" where it was working for him but things were looking uncertain for Katelyn, but by the start of August 2016 it all fell into place and the two left for New Zealand.
"I was shipped off to Antarctica in November and then in March 2017 Katelyn went as a research scientist on an icebreaker with a team from New Zealand, the US and Korea.
"There's a big push now in the sciences to have a more complete understanding, from the highest peaks to the deepest ocean, and between the two of us we scratched the surface of both."
Katelyn was inspired to study climate change by the Al Gore film An Inconvenient Truth. Jamey says he always collected rocks as a child and was reintroduced to the wonders of science by a passionate geology professor.
"I just became completely obsessed with Antarctica. I didn't know folks went there to study or keep bases running, I had no idea, and as soon as I learned that I felt like my life changed entirely," he says.
It would be a mistake to picture Katelyn and Jamey sitting at home, back to back, working on their PhDs, occasionally glancing over their shoulders to see how the other is doing.
"Different rooms, you mean, different rooms," says Jamey.
"They'd joked about putting us in the same office and I was like, 'Please don't,'" says Katelyn.
"In many ways, there was that mutual understanding of having to work weekends and extra hours, but knowing at the end of the day we'll reconvene. It would be harder when you are with someone who might not understand the time it takes to wrap these things up."
And did graduation live up to the years of anticipation?
"It was just exciting," says Katelyn. "We had worked so hard for this moment and then, suddenly, it's finally here."
"Yeah, we did it," says Jamey. "I am just really proud—proud of Katelyn, proud of myself as well, but so, so proud we did it together."