Aileen Gordon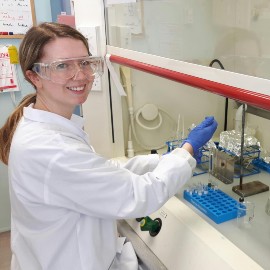 Contact
Phone: 021 0253 0202
Email: Aileen.Gordon@vuw.ac.nz
Office: CO421
Qualifications
BSc Victoria University of Wellington (2020)
MSc Candidate in Geology
Masters thesis
Title
Plant chemotaxonomy as a tool for reconstructing Aotearoa-New Zealand's paleoenvironment.
Supervisors
Dr Sebastian Naeher (GNS Science)
Project objectives and description
Aotearoa-New Zealand's history of geological isolation means that it is host to many unique forms of plant life, with ~84% of native plants being endemic to Aotearoa-New Zealand (DOC, 2020). Yet, factors such as climate change, land use, introduced pests and diseases have major consequences for biodiversity loss. This thesis will use biomarkers (geochemical fossils) to provide a greater understanding of Aotearoa-New Zealand's bioheritage by
(1) developing a chemotaxonomic classification for native New Zealand plants, and
(2) test the validity of the chemotaxonomic classification by reconstructing the vegetation of Adelaide Tarn, Nelson.
The thesis will contribute to our understanding of Aotearoa-New Zealand's unique biodiversity and contribute to the overall research in this area by providing a classification system that can be used as a tool in future research.