Helen Lowry Hall
Set in extensive gardens in the suburb of Karori, Helen Lowry Hall has a community feeling as well as a dedicated house for mountain bikers.
In the suburb of Karori, Helen Lowry Hall is made up of blocks and houses set in extensive gardens surrounded by trees. A free shuttle service runs every 30 minutes throughout the day during academic weeks between the hall and Kelburn campus, 4km away.
Enjoy a real community feeling—residents are encouraged to live sustainably and to volunteer around the hall and within the local community. You could even take the hall dogs for a walk.
Heaps of events are planned by the hall, including trips (such as skiing and tramping), quiz evenings, sports, and formal dinners. The shuttle is also used so residents can explore the Wellington region.
Conveniently located near to the spectacular Makara Peak Mountain Biking Park, the hall has a dedicated house for mountain bikers, creating a supportive environment for athletes. Recreational and performance riders alike can take advantage of the hall's commitment to athlete-friendly living with catering options appropriate for student athletes, an alcohol-free living space, and a fitness facility.
About the hall
Helen Lowry Hall is operated by the Helen Lowry Trust (the University has oversight of the pastoral care of residents).
Popular with first-year students and returning residents.
First-year students are placed in single or twin rooms in the blocks. Bedrooms in the houses are available for returning second-year, third-year, and postgraduate students who wish to self-cater.
Bedrooms are fully furnished and heated. See the list of items provided in the Helen Lowry Hall Handbook pdf

832KB

Each area has its own kitchenette and bathroom facilities.
Bathrooms are gender diverse.
There is a fully equipped gym, music room, computer suite, project room, and a games room with table tennis, darts, and pool table. All lounges have a TV.
The communal dining room offers breakfast, lunch, and dinner. Lunch from Monday to Friday is buffet-style which can be eaten at the hall or packed early to take away, and a cooked lunch is offered on weekends. Special dietary options are also offered. The dining room is open 24 hours a day with hot drinks and bread provided.
You can request to live on an alcohol-free floor or female-only floor.
Wi-Fi is available.
Each area has its own laundry with washing machines, dryers, and outside clothes lines.
There are 15 free off-street car parks and secure bike storage and workshop.
Fees
| | Per academic year (38 weeks) | Per week |
| --- | --- | --- |
| Single room, catered | $14,535-$17,586 | $383-$463 |
| Twin-share, catered | $12,741- $15,792 | $335-$416 |
| Single room, self-catered | $12,562- $13,997 | $331-$368 |
| Twin-share, self-catered | $9,690-$12,203 | $255-$321 |
The 2023 fees quoted for Helen Lowey Hall include electricity, heating, and internet, and are subject to change. The rate will be confirmed when you receive your offer.
Trimester 1 only contracts will incur an additional fee of 10 percent to cover the cost of finding someone to take your room when you leave.
Find out when you need to pay accommodation fees and other charges.
Virtual tour and photos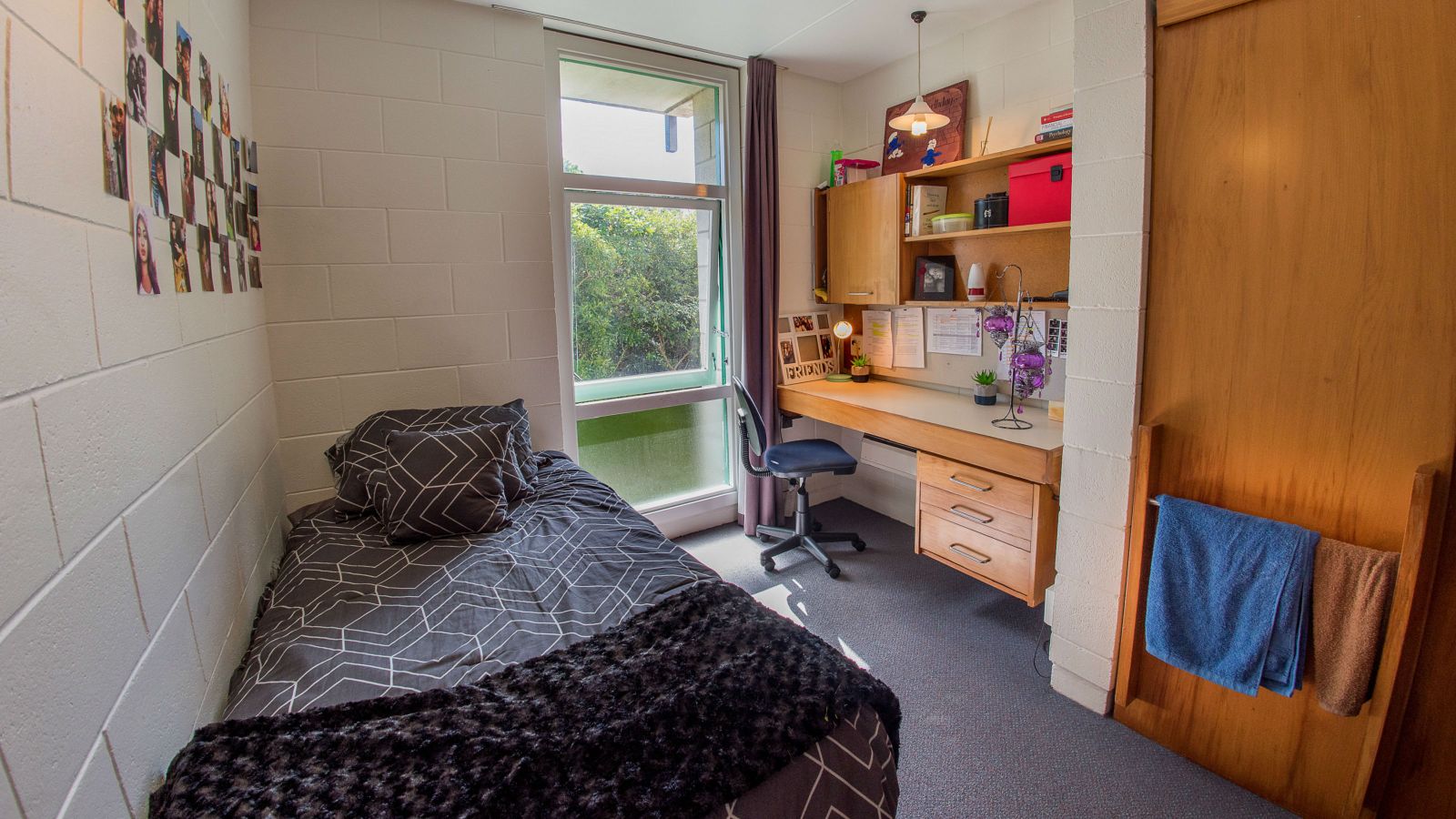 View gallery
Events
Get involved and meet lots of people at the many inter-hall events. Throughout the year there are sports events, a quiz night, talent quest, film festival screening, and hall formals as well as inter-floor activities.
Support
Starting university and living in a hall is an exciting time but it can also be challenging.
Our dedicated team of hall staff are always there to support you, and contribute to creating a friendly and safe hall whānau culture.
Residential advisers (RAs) are senior students employed and trained by the University to support hall residents. You'll be assigned to one of them and they are often your first point of contact if you need help. RAs are very approachable and enjoy having a chat anytime. They organise hall events and can arrange study groups.
Student support coordinators are registered health professionals who are assigned to each hall, giving you easy access to counselling support. They also work closely with hall staff to ensure health and wellbeing goals are understood and being met.
Support services
We want you to have a happy and successful time at university and get all the support you may need. Make use of our study skills advice and resources as well as health, counselling, and recreation services. There are mentoring programmes and support networks available within our diverse communities.
Addressing conflict
Living with others can be hard at times. Our halls use a restorative justice process to address conflict and rule breaking. This process requires everyone affected to work together to reach an agreement about what must be done to restore relationships.
The Helen Lowry Hall Handbook pdf832KB outlines our behaviour and conduct rules.
For residents of the hall who are not enrolled as students at the University, read our misconduct process schedule pdf212KB
Visit our halls
Contact the hall directly to make an appointment to visit. If you wish to see more than one hall on the same day, make sure you allow at least 30–40 minutes to cover the tour and the time to travel to the next hall. You can book a hall tour during school holidays.
Book a tour of Helen Lowry Hall